Award-Winning Alumna Focuses on Advancing Young Women in Media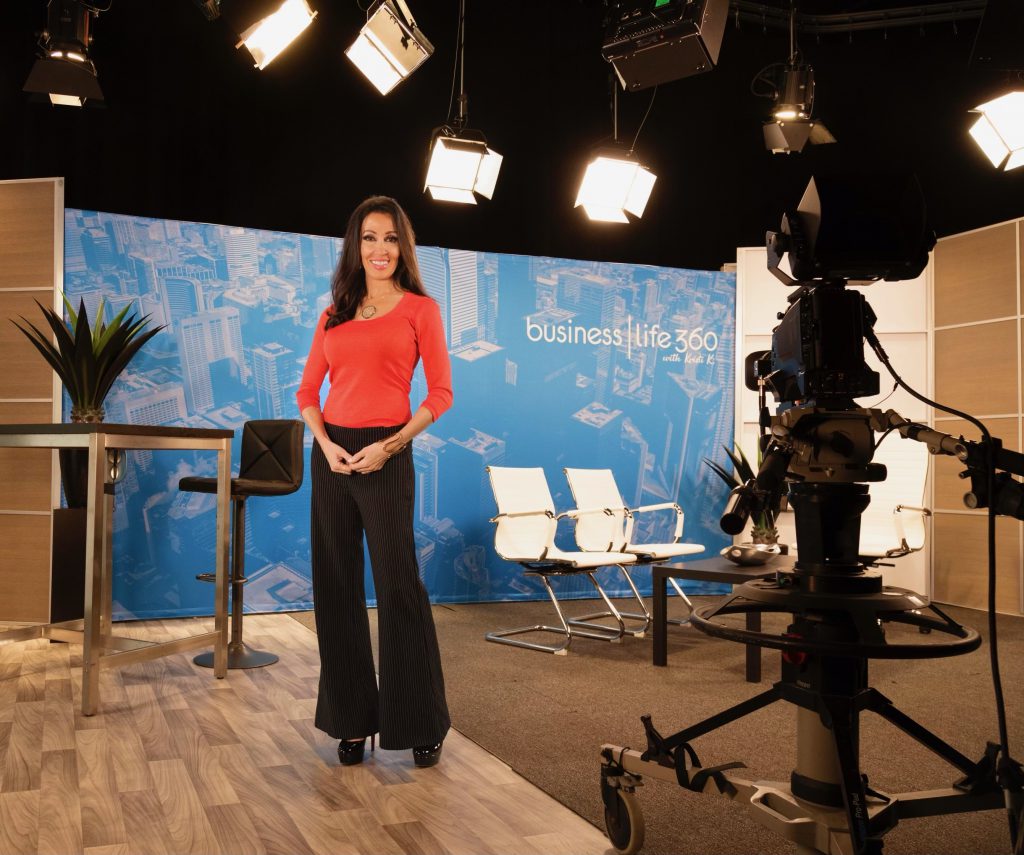 Kristi K. Hoffman '86 may be an award-winning, Emmy-nominated TV host, media producer, journalist, lifestyle influencer, businesswoman, philanthropist and best-selling teen social issues author of Total Package Girl: Discover the Ultimate You for Life by day, but at the core of her work she is a family woman and Northwest Ohio girl. Recently honored as a 2023 YWCA Milestones Award recipient, Hoffman has carried many of her University of Toledo education and experiences with her across an amazing career filled with female empowerment, community service and volunteerism. "Looking back, my experiences at UToledo planted rich seeds of leadership that continue to impact my life today," recalls Hoffman.
Hoffman is the owner of Kristi K. Media, a company she started to create a trusted hub of indispensable information related to everything business, healthy lifestyle, and relevance for success-driven people. Through Kristi K. Media and her career in broadcasting, Hoffman has been able to meet hundreds of equally inspiring and intriguing people. "While I love the power of women and young people's voices in my interviews, the funniest interview I've done hands down is with Brendan Hunt, Coach Beard from Ted Lasso, who ultimately hula-hooped during the interview," Hoffman states. Her most challenging interview? Vincente Fox, former president of Mexico.
Among the list of her extensive accomplishments, Hoffman is proudly married to her husband Jim and has two incredible sons and two Siberian Cats.
It All Started at The University of Toledo
Choosing to attend UToledo was not difficult for Hoffman. "Growing up, my family spent a great deal of time at the University, including going to Rocket basketball and football games. I loved every minute of my time on campus. It was exciting, beautiful and had much to offer."
Hoffman seemingly soaked in all that UToledo offered and was incredibly involved in both the academic and social aspects of the University. "UToledo taught me a great deal about the importance of involvement, making connections with diverse groups, finding my passions and building a strong network." said Hoffman.
Not only was she a Rocket cheerleader, a member of Delta Delta Delta, and a Golden Heart of Sigma Phi Epsilon, she was also already climbing the broadcast media ladder. "As a broadcast major, I worked for the campus TV station on-air and behind the camera, which inspired my future career." Additionally, Hoffman was a writer and reporter for the University's newspaper, The Collegian. On occasion, she was sent to theaters and comedy clubs on weekends to interview musicians and comedians. "Let's just say, that led to some of my most "creative" writing," joked Hoffman.
Hoffman recalls a specific instance where she realized she could use her voice for the greater good. "I once participated in a speech contest in one of my large lecture classes at UT, and surprisingly, I won!  That was one of the first times I truly used my voice for good, for impact and for expression. Shout out to Dr. Ethel Wilcox for eliciting the strong sense of confidence within me, that, to this day, carries me through keynote speeches and interviews."
Empowering Future Generations
"During my undergraduate years at UToledo, I volunteered at a girls' art fair where I observed inner city girls proudly displaying their art. Their confidence was infectious and incredibly inspiring. I knew that was the space in which I could make an impact — working with youth to proactively perpetuate hope and optimism," said Hoffman.
As a woman with immeasurable experience working on-air, Hoffman recalled the constant eye-opening experiences about societal issues affecting future generations of women in media. "As a woman on-air in the media," began Hoffman, "I recognize now, more than ever, the unhealthy focus on the physicality of women in today's world is another impetus for helping girls gain esteem and leadership in their own lives."

As a result, Hoffman has organized Girl Leadership Summits, which has an extremely wide reach and where she works tirelessly to empower and uplift young women. "As a female, I feel I must give back to future generations of women, to help them be strong, use their voices, and lead with courage and confidence — and to lead by example." When it comes to broadcasting, Hoffman loves to feature women-owned businesses and female entrepreneurs on her podcast and TV show. "Role modeling resolutely carries over into being strong and impactful leaders in the workforce. In addition, I believe in cultivating female entrepreneurship and advancing females in the workplace," Hoffman emphasizes.