Alumna Paves the Way for Diverse Dermatologists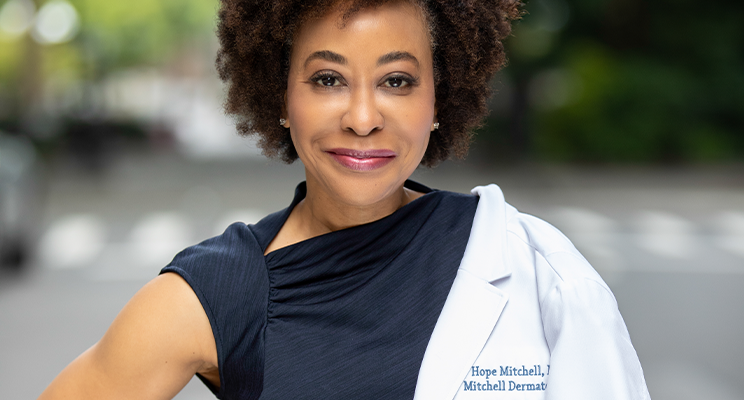 Dr. Hope Mitchell '94 is an Ohio board-certified medical and cosmetic dermatologist and the founder and CEO of Mitchell Dermatology, located in Perrysburg. She is passionate about ensuring the field of dermatology is accessible to minority medical students. Her firsthand experience left a lasting impression and provided inspiration to help change the face of medicine and dermatology in any way she could.
"I was fortunate to do my dermatology residency in Detroit where I saw black patients. However, I saw very few black dermatologists and did not have access to a mentor," said Mitchell.
"There was a lack of cultural understanding of black hair care and hairstyles, which ultimately impacted treatment outcomes."
Closing the Gap
After graduation, the lack of diversity of physicians in medicine, especially medical specialties, stuck with her. She notes that 2% of black dermatologists are caring for the 13% of the U.S. population who are black.
"It is ironic that the skin is so diverse in skin tones but dermatology specialists are not," begins Mitchell. "The field of dermatology is not keeping up with the diversity of the nation. The entry into the dermatology field was greatly limited when I entered dermatology residency in 1995 and it still is."
She highlights that this specialty is second to orthopedics in its lack of diversity. In fact, black physicians only make up 5% of doctors—of which 2% are black women. The scarcity of black dermatologists directly feeds into the disproportionate care of people of color.
Mitchell's hair loss patients, for example, feel more comfortable being treated by a black woman and dermatologist with afro-textured hair who can relate to their hair loss concerns. She underscores what she sees as a larger opportunity within healthcare.
"Representation will help decrease health disparities. Studies have shown improved patient outcomes when the physician and patient share the same ethnicity," she says.
"There is a whole different connection with people when there is a cultural connection."
This disproportionate care is what motivated Dr. Mitchell to establish a mentorship program called The MD Student Gap Year internship. The internship is a one-year program that exposes students to many components of the medical field during a gap year between undergraduate college and medical school.
"The 2023-2024 class is my third cohort and the program has grown from two to four interns this year," Mitchell explains. "I wanted to give back to my alma mater, and to date the program has accepted eight students."
Supportive Faculty
Before she was an established medical professional, Mitchell was a student at the Medical College of Ohio, now known as The University of Toledo College of Medicine and Life Sciences. She moved to Toledo from New York to be closer to her fiancé – and discovered a second love within the University.
"I remember Dr. Barry Richardson and Ms. Sandra Gill taking me in and making me feel like family. I had a great education as a medical student," recalls Mitchell. "From the gross anatomy labs to clinical rotations, professors and attending physicians were great teachers who taught me a lot."
When she is not seeing patients, Mitchell is usually reading and writing, gardening, or working with one of her many protégés. She also proudly serves on the executive board as vice chair and director of research for The National Medical Association's Dermatology Section, which allows her to continue supporting the future of education.