1962 Graduate Inspires Grandson to Pursue Civil Engineering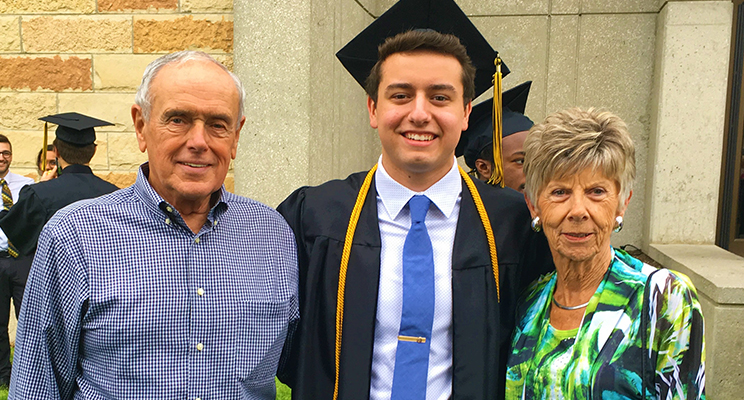 "My grandfather – an extremely soft-spoken man – was a successful civil engineer, to say the least," said Brock Laurer '22, who recently received a Bachelor of Science degree in Civil Engineering from The University of Toledo. "From his upbringing in a small Ohio town to starting his own engineering firm and maintaining its reputability, to becoming the President of the American Council of Engineering Companies and an international ambassador — it made me feel proud to know the impact he had on his community and beyond." These stories inspired Laurer to research the civil engineering profession, which helped finalize his decision to follow in his grandfather's footsteps.
Brock's grandfather, Lester Poggemeyer '62, also went to UToledo to obtain his civil engineering degree. "My grandfather worked extremely hard to reach that goal. He would attend his classes, study, come home, tend to the farm and also work another job. His ability to do all this is very admirable, and it continuously gives me a wave of inspiration any time I think about it," said Laurer.
"Both my grandfather and grandmother, Shirley Poggemeyer, founded Poggemeyer Design Group back in the late '60s. At that time, it was just a two-person office near downtown Bowling Green. They eventually expanded the company to cities as far as Las Vegas and Washington state." The Poggemeyers eventually retired and sold the business, but Laurer was still sold on following in his grandfather's footsteps.
"I was fortunate enough to complete five co-ops with a few different companies, all of which gave me extremely valuable experiences," commented Laurer. "I've been able to acquire broad technical knowledge, and technical writing and speaking skills. I give my appreciation to my employers for giving me such great opportunities." Brock also recalls how student organizations made a real difference in his college journey.
"I was primarily involved in Engineering- and STEM-related organizations, such as Building Ohio's Sustainable Energy Future Solar Team, which is sponsored by the U.S. Department of Energy and the National Renewable Energy Laboratory. Our team won third place in the Solar District Cup, and I was the civil/construction lead for the team." Brock was also involved in Adopt-A-STEM, the American Society of Civil Engineers UToledo Chapter, ASCE Concrete Canoe Team, Chi Epsilon and the Lift-Off UT Mentorship Program. He also served as a mentor for the Civil Engineering Orientation class and was active with the tennis and curling clubs. "Overall, my participation gave me a little taste of organization management, helped me build relationships, and it strengthened my soft skills. Though I was very busy at times, if I had to do it all over again, I wouldn't change a thing," recalled Laurer. "My involvement helped me form relationships with peers and faculty, all of which I value. I would definitely recommend future students get involved, and I can guarantee it will only improve your experience at UToledo."
Lester and Shirley Poggemeyer commented, "We are very proud of Brock and his accomplishments, and we wish him much engineering success in the future. He certainly has gained a good engineering educational background, experience and training at the University of Toledo and will be a strong asset to the engineering profession in the future."
Lester added, "UToledo has always had a leading civil engineering program, which I am glad to have been part of as a bridge to our professional engineering success. The University has been supportive of my professional career and I am always proud to say I graduated from UToledo."
All of Brock's hard work surely paid off – he accepted a full-time structural engineer position at Nexus Engineering Group in Maumee. But he's not done yet: Laurer announced that, while working full-time, he will be pursuing his MBA from the UToledo John B. and Lillian E. Neff College of Business and Innovation part-time!