UToledo Welcomes Blair as New Athletics Director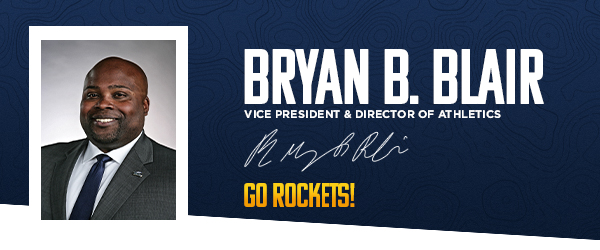 The University of Toledo welcomed Bryan Blair as vice president for intercollegiate athletics and director of athletics this past May. Blair is the 14th athletic director in the history of The University of Toledo, as well as the youngest and first African-American to hold the post. He comes to UToledo after serving as the deputy athletic director and chief operating officer at Washington State University since 2018. While at WSU, the Cougars excelled on and off the court, competed for NCAA championships, set cumulative GPA records, doubled yearly fundraising to more than $30 million and secured 50 of the top 70 largest gifts in WSU athletic history.
"I have been very candid about my vision in early conversations: win championships, graduate student-athletes with meaningful degrees and experiences and serve our amazing campus and community," said Blair. "Together, we will take our athletics program to unprecedented heights and become the nation's premier Group of Five athletic program."
Blair holds a law degree from the University of South Carolina and earned his undergraduate degree in history at Wofford College. He played four seasons as a nose tackle for the Wofford football team from 2003-06. He was a team captain as a senior in 2006 and was named the team's Defensive Lineman of the Year.
A rising star in intercollegiate athletics, Blair was selected to serve on the National Sports Forum's Steering Committee and the Board of Directors for the Minority Opportunities Athletic Association.
In 2016, Blair was chosen for the nationally acclaimed D1A Institute (now LEAD1). The goal of the institute is to help the participants be better prepared to move into the role of athletics director. After the Institute, Blair was recognized by LEAD1 president and CEO Tom McMillen as a "Future Leader of College Sports."
"Thank you to countless members of the Toledo community for the warm welcome," said Blair. "My family and I have been so touched by the outpouring of support and we can't thank you enough for easing the transition to our new home. My wife Jenna and I are excited to explore everything that this great community has to offer with our children, Brielle and Beau. I am more convinced than ever that Toledo is the perfect fit for me and for my family."