"Little Adventure" Turns Into Career Change for '91 Graduate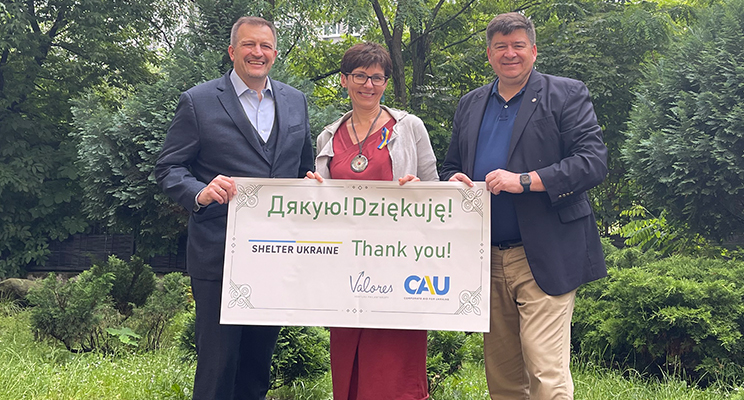 "My journey to becoming a lawyer in Poland is comprised of hard work, ability and being trustworthy, all combined with a little luck," said David DeBenedetti '91, '91.
"The week after I finished at The University of Toledo, I moved to Poland to teach English and study Polish. Perhaps I was overcompensating for not leaving my hometown sooner by going further away, especially in a time of no internet or cell phones." He continued, "I didn't realize it then, but that little adventure would shape the course of my life."
The Toledo native was ready for a change of scenery until his father, Charles DeBenedetti, a peace historian, passed away during his senior year of high school. To help out and stay close to his family, DeBenedetti reluctantly enrolled at UToledo. "I started at Toledo with a chip on my shoulder," he recalls. "But by the end of the first year, I had found so many friends, mentors and professors that I didn't want to leave."
Finding a Passion for Law
After graduating from UToledo with honors and a major in history, DeBenedetti spent two years teaching English and studying Polish in Poznan, Poland. After his experience teaching, he found an interest in law. "It provided an opportunity, a profession and knowledge level which I felt I was missing," said DeBenedetti. So, he moved back to the U.S. and went to Georgetown Law and planned on specializing in either government or advisory work. However, he realized he didn't like the work itself. "I mean, I love being in Washington and doing important things," said DeBenedetti. "But the day-to-day work didn't excite me. On the other hand, my time in Poland had given me an entrepreneurial spirit and I saw how quickly things were changing after communism fell. So, I dreamed of going back."
In 2004, DeBenedetti stated that his "entrepreneurial bug came out," and he and his partners established the DeBenedetti Majewski Szczesniak (DMS) law firm in Warsaw, Poland. After 18 years, DMS has grown its team to more than 20 lawyers and 30 staff. DeBenedetti works primarily with mergers, sales, greenfield investments, brownfield cleanups and just about anything else clients, primarily non-Polish, want to accomplish.
February 24, 2022
While most readers may remember this day as any other Thursday, DeBenedetti remembers it as the day Russia attacked neighboring Ukraine. "The first wave of refugees hit Poland when the Polish government was completely unprepared," recalls DeBenedetti. "Millions of people were crossing the border, with little infrastructure prepared for them. But the people of Poland – not the government, not large organizations – but individual, unorganized, people saved the day."
"Three million refugees crossed the Ukrainian-Polish border, mostly on foot, in winter. Yet, no one froze to death, no one starved, and I never saw a Ukrainian refugee sleeping outside."
Half of the employees at DMS have Ukrainian nannies or maids. After the attack, they all found themselves driving to the border crossings and waiting for their nannies' or maids' family to come across. DMS employees had entire families staying with them in their apartments. "We were all exchanging food and medicinal supplies, buying diapers and helping out," said DeBenedetti.
Back at the firm, DMS hired a Ukrainian and Russian speaker, who also fled to Poland just three days before, and set up a pro bono helpdesk. The helpdesk was quickly outgrown and refugees were intimidated by the high-rise where the office is located. DMS staff worked with building management to secure a ground-floor office and all the other law firms in the building set up a schedule to help refugees with legal issues.
Aiding a Cleveland Native
Another American who lives in Warsaw reached out to DeBenedetti to take in a Cleveland native who was fleeing with his Ukrainian wife, her parents, and their dog and cats. DeBenedetti couldn't personally take them in due to his own two dogs, but found a place for them at a friend's nearby. "We set up our new friends with internet, food, a vet visit and some pet food," said DeBenedetti. "Right after they settled in, they asked me if I could take in two Nigerian medical students and their three-year-old son. They arrived with one shopping bag and one purse."
"They had no clothes, so we bought them three days' worth," he continued. "They were not my wife's size, and I have all daughters. So, my wife started trading with neighbors and friends, all of whom had taken in refugees, and we managed to find enough clothes for them to leave with three suitcases. I view this time as a miracle of so many people working together to feed, clothe and shelter millions, with no help from any government and only help from each other."
Back at UToledo, colleges, departments and organizations have also been working hard to spearhead relief programs and mission trips to support those in Ukraine:
Click Here to Read UToledo News Stories on Ukraine
More Work to Be Done
"The last, and perhaps most important thing that I've done to help is setting up Corporate Aid for Ukraine (CAU)," said DeBenedetti. "It's a 501c3 nonprofit where donors can support Ukrainians in both Poland and Ukraine. So far it has raised enough funds to feed a women and children's shelter in Lviv for a week, refugees in Krakow for two weeks and replenish the Ukrainian pacemaker supply. The former pacemaker warehouse was destroyed in the first days of the war."
"The Ukrainian war and crisis have placed the urge to help others firmly in my DNA, as now it's a natural part of planning for anything," said DeBenedetti. "When I went to the U.S. on business in March, I reached out to contacts and, thanks to Representative Marcy Kaptur and other Toledoans, managed to bring back a suitcase full of tourniquets, bandages and basic medical equipment."
"Overall, this has been one of the most stressful times in my life, while I think I'll recall it as my and Poland's finest hour."
Pictured at top: David DeBenedetti '91, left, presenting CAU's first disbursement to a shelter for women and children in Kyiv.