Floyd Akins Joins UToledo Advancement
Floyd Akins joined The University of Toledo as vice president for University advancement on Feb. 14.
Akins brings a wealth of experience in higher education, fundraising and advancement to the table, most recently serving as associate vice president for advancement at Michigan State University. During his time at MSU, he oversaw constituent fundraising, individual giving and prospect development and corporate and foundation engagement.
Experiencing Toledo
When asked what his favorite parts about UToledo are so far, it was difficult to keep up with all the things Akins listed off. First and foremost, his favorite part about Rocket Nation is the people he has met along the way. During his first week, Akins joined UToledo President Gregory Postel at two alumni chapter events in Florida. The love our alumni have for their alma mater is apparent, even if they are thousands of miles away from campus.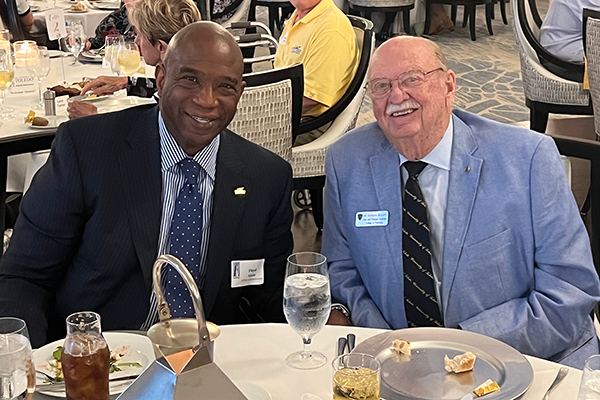 The breadth of services, resources and programs the University offers its students, faculty and staff also sets this position apart from his other experiences in higher education. Akins is especially excited about The University of Toledo Medical Center (UTMC) and its potential to impact the University and the Toledo community.
Floyd has already discovered some of Toledo's best restaurants and amenities. Mancy's Italian is a top favorite so far, with Souk Mediterranean Kitchen also high on his list. His family has yet to explore our world-renowned Metroparks, but with the weather warming up, there may be a chance you run into him during your afternoon walk.
Outside of his family and work, Akins calls music his passion. He was the lead vocalist and founding member of the Funkdaddies, an R&B and funk band in Iowa City that still performs today. He also was part of the Harmony Project, established in 2010 to bring neighbors together to sing, serve and share in Columbus.
"I love music and hope to get involved in Toledo's music community," Akins said.
Sights On the Alumni Association
Akins was quick to note that The University of Toledo Alumni Association is unique amongst other collegiate alumni affiliations in that our staff may be smaller, but we are more passionate about supporting our alumni community than most.
Hear from Floyd about his aspirations for the Alumni Association
"In higher education, you help to save and change lives. That has been my goal throughout my entire career, and I am thrilled to become a Rocket and have the opportunity to move the University forward through philanthropy and increased engagement of alumni and friends," Akins said.
"UToledo is in an incredible position to provide access to people who may not have otherwise had the opportunity to attend a school with the breadth that is unlike any institution of its size."