Two Rockets Named to College Football Hall of Fame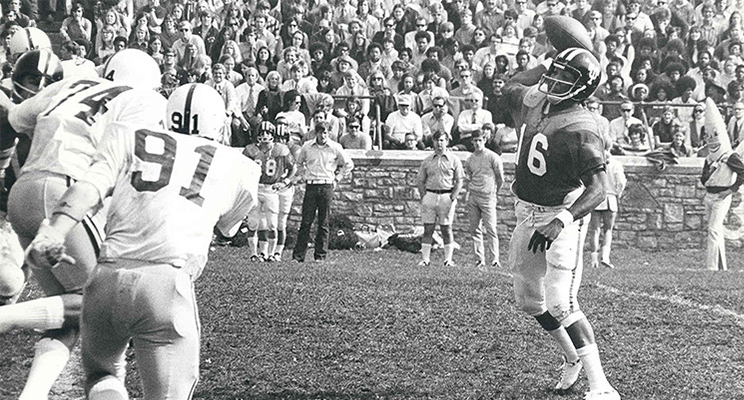 Former University of Toledo quarterback Chuck Ealey '72 and former Rocket head coach Gary Pinkel were named as inductees into the 2022 class of the College Football Hall of Fame.
Ealey and Pinkel were among 21 former players and coaches named to the 2022 induction class. They were selected from a national ballot of 78 players and seven coaches from the Football Bowl Subdivision, and 99 players and 33 coaches from the divisional ranks and the NFF Veterans Committee candidates. The 2022 College Football Hall of Fame Class will be officially inducted during the 64th NFF Annual Awards Dinner.
The inductees also will be recognized at their respective collegiate institutions with NFF Hall of Fame On-Campus Salutes, presented by Fidelity Investments, during the fall. Their accomplishments will be forever immortalized at the Chick-fil-A College Football Hall of Fame in Atlanta.
Ealey and Pinkel join former Rocket defensive lineman Mel Long in the College Football Hall of Fame. Long, who was a teammate with Ealey on the undefeated Rocket teams from 1969-71, was inducted in 1998.
"I was thrilled when I heard the news. It's been a long time coming," said Ealey, who makes his home near Toronto, Canada. "I'm grateful to the selection committee, to The University of Toledo and to everybody who supported my candidacy for the Hall of Fame. As I said, it's been a long wait but on the plus side, now my kids and my grandkids can be a part of this. If this had happened 40 years ago, then they wouldn't have been able to share in it."
Pinkel, who retired from coaching in 2015, joins the hall as both a Rocket and a Missouri Tiger. He coached the Rockets from 1991-2000.
"I'm so honored to be going into the College Football Hall of Fame as part of two great universities," Pinkel said. "I had such a great experience at The University of Toledo. We ran a program with a lot of integrity and we won a lot of games. I was honored to be a part of the great tradition at Toledo. It's also a great honor for me to be inducted in the same class as Chuck Ealey, who is without a doubt one of the all-time great college football players to ever play the game."
CHUCK EALEY
Quarterback, 1969-71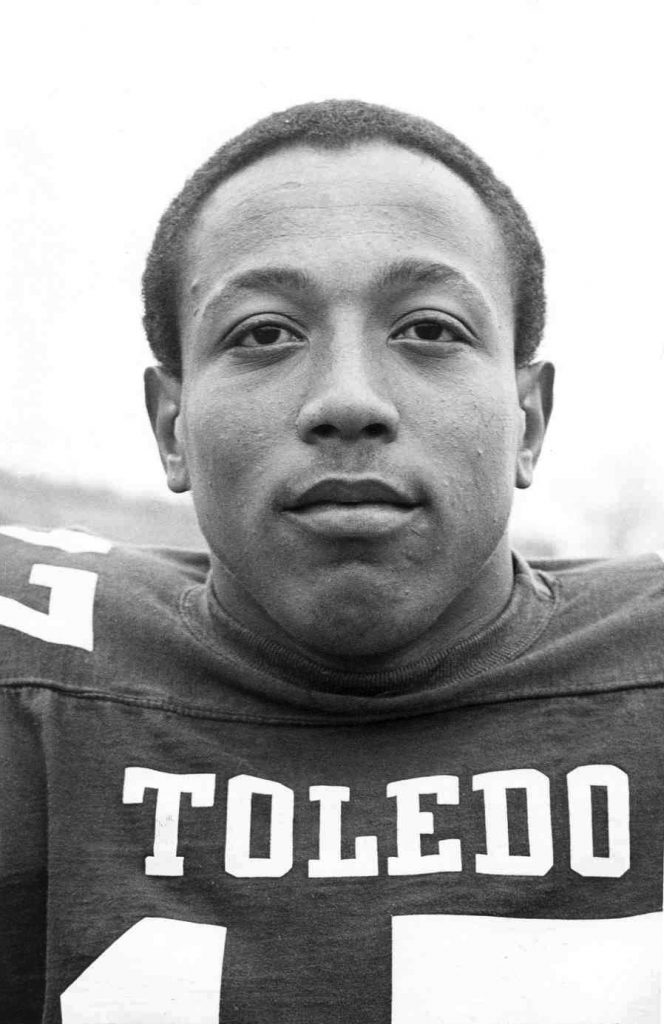 The signal caller for the best run in Toledo football history, Chuck Ealey never lost a game in his three seasons as the Rockets' starting quarterback.
Named a 1971 First Team All-American, Ealey went a remarkable 35-0 as Toledo's starting quarterback. The three-time MAC Back of the Year became the first player in conference history to receive votes for the Heisman Trophy, tallying 168 points for an eighth-place finish in 1971. A three-time First Team All-MAC selection, Ealey led the Rockets to three consecutive conference titles. While guiding the team to three-straight Tangerine Bowl victories, he earned MVP honors following standout performances in the 1969 and 1971 editions.
A 1971 team captain, Ealey finished his career as Toledo's all-time leader with 5,275 passing yards and 45 touchdown passes, both marks that still rank in the top 10. In both 1970 and 1971, he received the team's Jim Nicholson Award as the team's most valuable player. Voted No. 1 on Toledo's All-Century Football Team in 2017. The Portsmouth native is one of just four players to have his number retired by the Rockets. He was inducted into The University of Toledo Varsity T Hall of Fame in 1978.
After going undrafted by the NFL, Ealey signed with the Hamilton Tiger-Cats of the Canadian Football League. Taking over as the starting quarterback in 1972, he would go on to win the CFL's Most Outstanding Rookie Award and lead the Tiger-Cats to a victory in the Grey Cup, where he earned MVP honors. In total, Ealey played seven seasons in the CFL with the Tiger-Cats (1972-74), Winnipeg Blue Bombers (1974-75) and Toronto Argonauts (1975-78).
Following his professional football career, he served as a financial advisor in the Toronto area. He currently serves as a consultant and public speaker, helping people of all ages discover and embrace their undefeated spirit so they can better themselves and their community. He founded the Chuck Ealey Foundation, which annually awards academic scholarships to college and high school recipients of The Chuck Ealey Undefeated Spirit Award. The Chuck Ealey Foundation also provides opportunities to high school students to help build their mentoring skills while guiding underprivileged youth to discover and embrace their sense of self-worth and "undefeated spirit."
GARY PINKEL
Head Coach, 1991-2000
Toledo's all-time leader in victories with 73 from 1991-2000, Gary Pinkel, is being inducted as the winningest head coach at both The University of Toledo and the University of Missouri. He is the first coach from Toledo and the sixth coach from Missouri to be inducted into the College Football Hall of Fame.
Pinkel began his head coaching career at Toledo in 1991 and during the next 10 years he would take the Rockets to new heights, winning 65.9 percent of his games and amassing a 73-37-3 record. His nine winning seasons at Toledo included the 1995 MAC championship, with the Rockets going 11-0-1 and finishing at No. 24 in the final polls. Pinkel would lead Toledo to three other MAC West Division titles. In 1997, the Rockets finished 9-3, climbing as high as No. 18 in the national rankings. They repeated as division champions again in 1998 with a 7-5 record. In his final season with the Rockets in 2000, the team went 10-1, including a 24-6 win at Penn State. The team finished the regular season with the MAC West Division title and ranked No. 25 in the AP Poll. He was named the MAC Coach of the Year in 1995 and 1997.
Pinkel took over at Missouri in 2001, leading the Tigers to 10 winning seasons, five conference division titles, 10 bowl appearances and six bowl victories. He finished his career at Missouri with an overall record of 118-73. Pinkel's Missouri teams posted final top-20 national rankings five times, including AP rankings of No. 4 in 2007 and No. 5 in 2013. In 2007, he was named the National Coach of the Year by FieldTurf, and he won conference coach of the year honors in 2007 (Big 12) and 2014 (SEC). In 2007, Mizzou claimed the school's first No. 1 national ranking since 1960 after a watershed 36-17 win against archrival Kansas in the Border Showdown at Arrowhead Stadium on Nov. 24, 2007. In 2011, the Tigers were SEC East Division champs, won the Cotton Bowl and finished with a final No. 5 ranking in the national polls.
Before announcing his retirement in 2015 due to a diagnosis of non-Hodgkin's lymphoma, Pinkel ranked as the third-winningest active coach behind future College Football Hall of Fame inductees Frank Beamer of Virginia Tech and Bill Snyder of Kansas State. Pinkel also is one of only three coaches in history to be the winningest coach of two college football programs, joining College Football Hall of Fame inductees Bear Bryant (Kentucky, Alabama) and Steve Spurrier (Florida, South Carolina). Pinkel coached 10 First Team All-Americans, three Academic All-Americans, three NFF National Scholar-Athletes and 79 first team all-conference players.
Prior to becoming a head coach, Pinkel was an all-conference and Honorable Mention All-America tight end at Kent State, playing for future College Football Hall of Fame Coach Don James. Pinkel worked as an assistant under James at Washington for 12 years, including the Huskies' 1991 national championship team.
Active in the community, he created the GP Made Foundation to help youth facing difficult challenges and has raised more than $10 million for charitable causes. In 2017, Pinkel released an autobiography, "The 100-Yard Journey: A Life in Coaching and Battling for the Win."
Pinkel was inducted into The University of Toledo Varsity T Hall of Fame in 2009.