The Sights, Sounds and Traditions of Homecoming 2021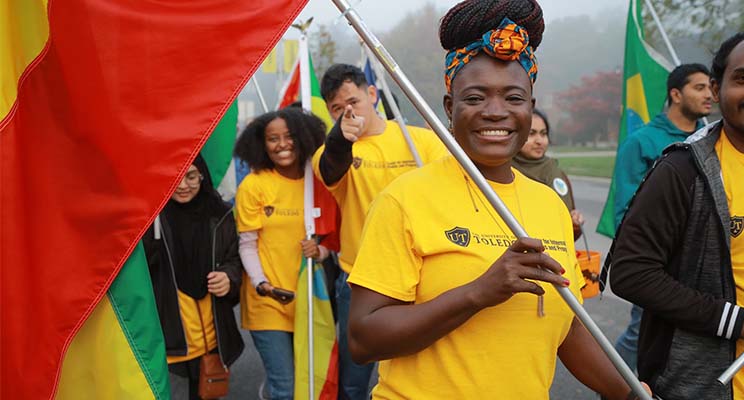 T-O-L! E-D-O!
For the first live Homecoming gatherings since 2019, thousands of alumni joined in that spirited chant in the Glass Bowl Oct. 9, cheering on the Rockets.
The student Homecoming Committee and the Alumni Association were finally able to watch all their hard work pay off during Homecoming week festivities for the 2021 theme of "Rockets Red Carpet," as well as events held over the weekend.
Before the Rockets took on Northern Illinois, students from various organizations gathered around massive floats that they spent all week bringing to life. The floats were proudly displayed in the Edward C. and Helen G. Schmakel Homecoming Parade around the Old Orchard neighborhood. Other parade participants included distinguished alumni from each of the University's colleges, who were honored at the Alumni Association's Homecoming Gala the night before.
After the parade, thousands of fans gathered in the William and Carol Koester Alumni Pavilion to attend the Association's Pregame Party. In Lot 10, Blue Crew alumni held their famous chicken lunch for fellow alumni, families and Rocket friends.
Elsewhere on campus, alumni gathered with their colleges during various movie nights, lunches and reunions. Student organizations held alumni events to reconnect and reminisce about their experiences as students. McComas Village was full of activity as graduates met new members of the Greek community who joined their chapters only three weeks prior.
The impact alumni have on current and prospective students cannot be recreated – which is why the Alumni Association team and UToledo are grateful for you.
You keep our beloved traditions alive, and ensure the success of Rocket Nation for years to come.