Meet the Alumni Association Board of Trustees
The 2021 – 22 Alumni Association Board of Trustees consists of 27 members and one student representative selected in conjunction with student government. A member of the board is appointed to hold the position based on demonstrated involvement, support and commitment to The University of Toledo and the UToledo Alumni Association.
Board members are actively involved in Alumni Association and University-sponsored events, including those sponsored by their college affiliates and chapters — especially the annual Homecoming Gala and Art on the Mall.
Members also assist the University and the Association in identifying and involving alumni and supporters in student recruitment, career networking, chapter leadership and community involvement.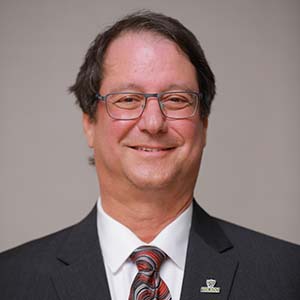 "I became active in the Alumni Association and joined the board because I wanted to give back to the University that has given so much to me. I'm thrilled to serve as the current president of the Alumni Association board. Our primary focus is to engage alumni, students and friends with the University and to elevate this organization and its members to new heights."

David Dmytryka '80, '83, President
---
Executive Officers (One-Year Term)
David Dmytryka (Eng '80, MEng '83), President
Pete Davis (Bus '92, MBA '13), First Vice President
Jeff Williams (Bus '04), Second Vice President
André Swinerton (Ed '98), Secretary
Kate Matz (Bus '02, MS '03), Treasurer
Nancy Miller (A/S '77, A/S '77, MEd '79, Law '88), Past President
---
Trustees
Dr. Shaza Aouthmany (A/S '06, RES '14), 2021 – 2024
Bret Babcock (Bus '10, Honors '10), 2021 – 2024
Nicole Beck (LLSS '15, Honors '15), 2020 – 2022
John Cooke (Eng '99, MEng '01), 2020 – 2023
Jennifer Dawson (Law '84), 2021 – 2023
Christian DelBoccio (Eng '02), 2021 – 2023
Jana Gessner (A/S '88), 2021 – 2024
Dr. Martino Harmon (Bus '87, MEd '98, Ph.D. '13), 2021 – 2024
Dawn Humphrey (Bus '04, MBA '05), 2020 – 2023
Lillian Lagger (Bus '97), 2021 – 2023
Col. Mark Langenderfer (Bus '85), 2021 – 2023
Joan Levitan (Ed '69), 2020 – 2023
The Hon. Tom Mackin (Law '90), 2021 – 2022
Michelle McCaster (UTCTC '96, A/S '96, A/S '97), 2020 – 2023
Matthew McClure (Eng '04), 2019 – 2022
Evelyn McKinney (UTCTC '99, Univ Coll '20), 2021 – 2024
Ambrea Mikolajczyk (Pharm '03), 2020 – 2023
Keith Nelson (UTCTC '93, UTCTC '94, Eng '96), 2019 – 2022
Dr. Michelle O'Brien (Pharm '11, PharmD '13), 2017 – 2022
Carol Thomas (Univ Coll '94), 2021 – 2023
Anna Walker (student representative), 2021 – 2022
Lynnette Werning (A/S '92), 2020 – 2022