Leaving Her Mark on the STEM Industry
Marilyn Belinske '51, '51, continues to serve as an inspiration for female students pursuing a career in science, technology, engineering and mathematics (STEM). She was the youngest person at the time to graduate from the College of Engineering at Toledo U — as the University was then known — and earned a bachelor of science in chemical engineering the same year.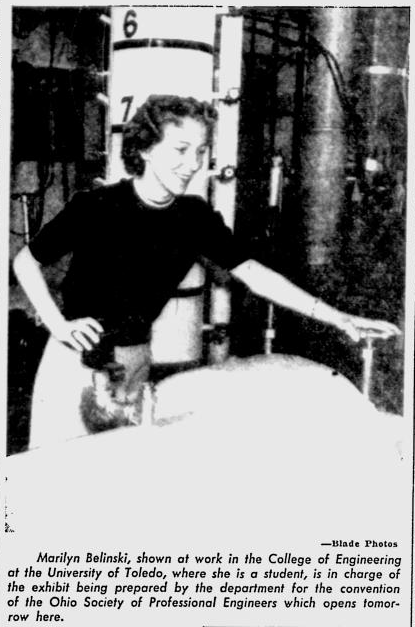 Outside the classroom, Belinske was the secretary of UToledo's Ohio Society of Professional Engineers (OSPE) chapter and secretary of the Student Council OSPE, its governing body. She was also a member of Pi Mu Epsilon, the Chemical Engineering Society, Chemical Society and Delta X.
If Belinske's resume had landed on a hiring manager's desk in 2020, one could assume she would be a top candidate for any position she desired. However, in the early '50s, she faced quite the opposite results. After submitting applications to multiple companies, Belinske learned that these companies were hesitant to offer her a job — fearful that other engineers would, intentionally or not, discriminate against her.
She landed a position at General Electric's locomotive division in Erie, Penn., then transferred to the turbine generator division in Schenectady, N.Y. Her favorite and most memorable work experience was spending two years at the Elmendorf Air Force Base in Alaska, which was still a territory and not yet a state.
During her tenure, she performed water analysis on nearby streams and tested paint and road mixes for the U.S. Army. She lived in Anchorage, which had only two paved streets at the time. There was no running water for the first six months, leaving them to get creative and use a neighbor's garden hose, or bathe on the base.
From 1957 to 1985, she spent her years teaching math and science, first to high school juniors and seniors in Staunton, Va. and then to middle schoolers in Atlanta.
Belinske just celebrated her 90th birthday, proudly wearing UToledo apparel to her party – she has always held a special place in her heart for her alma mater.