Rockets Fly to Notre Dame This Week
Making History
The University of Toledo Rockets football team will be traveling to South Bend, Ind., Saturday, Sept. 11 to take on the Notre Dame Fighting Irish for the first time in history.
The matchup kicks off at 2:30 p.m. EDT. Fans can watch the game at home through Peacock Premium.
UToledo Vice President and Athletic Director Mike O'Brien commented, "We are very pleased and excited to add Notre Dame to our 2021 football schedule. Notre Dame has one of the greatest college football traditions in the country." He added, "So it definitely will be a matchup our football team will be looking forward to."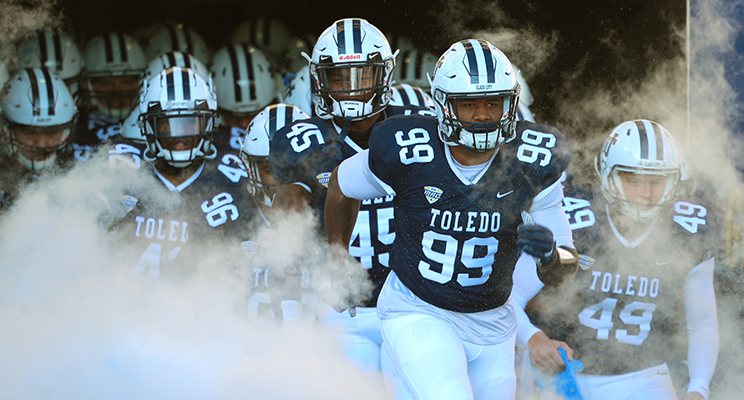 Notre Dame will be among the most prominent college football programs that Toledo has played. In recent years, UToledo has faced Power 5 schools such as Ohio State, Michigan, Penn State, Florida, Arkansas, Missouri, Arizona, Iowa State, Purdue, Pittsburgh, Kansas, Syracuse, Colorado and Minnesota. The Rockets have held their own against these teams, with wins over Michigan, Penn State, Arkansas, Minnesota, Purdue, Iowa State (twice), Pittsburgh, Colorado and Kansas.
Toledo will be just the fifth school currently in the Mid-American Conference to play Notre Dame in football behind Miami (1909, 2017), Akron (1910), Western Michigan (1919, 1920 and 2010) and Ball State (2018).
The Alumni Association sends our best wishes to the students, alumni and all Rocket fans traveling to South Bend to cheer on our team.
Go Rockets!
For more information on Rocket football season tickets, click here.