Your Alma Mater / September 2020
There's something about being on UToledo's campus in the fall.
The buzz and electricity in the air as everyone returns from summer adventures; seeing familiar and new students alike finding their path, either to class or to a rewarding career; the sound of the Rocket Marching Band rehearsing in the distance; that first telltale chill in the breeze that makes you stop and realize just how quickly the leaves are changing; the familiar chimes coming from the University Hall bell tower as you cross Centennial Mall.
The Rocket Marching Band kicks off "Saturday Sounds of the Stadium," a series of performances also available via livestream, Sept. 12 at noon. Details here.
No mistaking it – this is my favorite time of year to be at the University, and I'm sure many of you feel the same way. Yet, it's also clear that this fall season will look different than any we've experienced as our community responds to COVID-19. The Mid-American Conference has postponed the fall sports season. In addition to typical nervousness and anxiety as classes ramp up, everyone is navigating campus behind a mask and wondering what their webcam background says about them as a person.
In light of it all, I'm trying to remember that, just as I have so many fond recollections of fall at UToledo, this peculiar semester will also create memories for our current students working toward graduation. I have no doubt that their resilience, focus and determination will help translate these strange circumstances into positive experiences and relationships – but as alumni, I also believe we have a role to play in aiding that positivity however we can.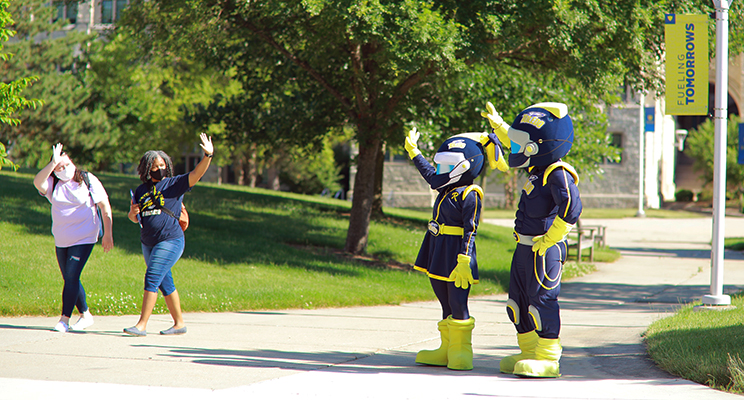 So as you reflect on your own time at UToledo, I invite you to find small ways to help ensure today's students remember college fondly. Reach out to a Rocket student in your circle of family and friends with a quick note of encouragement (handwritten still accepted). Follow the UTAA on Facebook and post a message or memory from your time on campus. Take advantage of ways to support student scholarships.
And feel free to email me at william.pierce@utoledo.edu with your stories and messages for students. I'll be sure to share your words of wisdom with Rockets finding their path this fall!
William L. Pierce '99, '09
Associate Vice President of Alumni Engagement
Executive Director and Lifetime Member of The University of Toledo Alumni Association