Back to Campus: Familiar, in that 2020 Kind of Way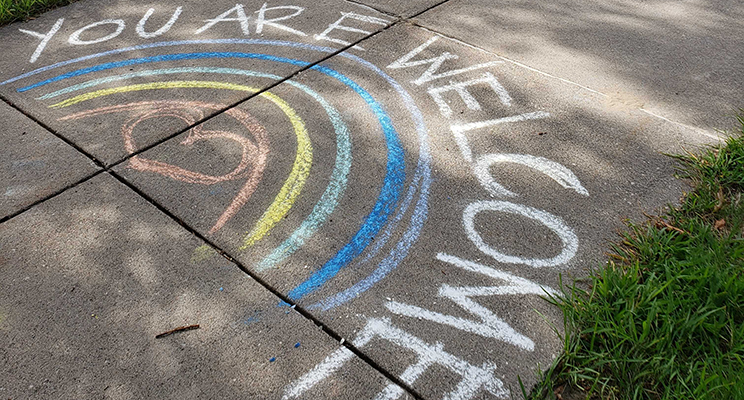 Following months of careful planning and coordination, UToledo students officially started classes for fall semester Aug. 17. And while many traditional signs of late summer on campus have necessarily changed due to the COVID-19 pandemic, others remain the same.
The cornerstone of a safe, sensible return for the University's students, faculty and staff was the Rocket Restart plan, developed in concert with local, state and federal officials as well as UToledo health and safety experts. While there is no perfect response for the COVID-19 pandemic, teams throughout the University's campuses worked diligently to provide the best plan to counter the challenges and uncertainty posed by the coronavirus.
Read more about how UToledo continues to keep campus safe.
Since returning for classes, students have shown the same resilience and adaptability they displayed during the pandemic's onset in spring 2020.
In addition to a hybrid schedule of in-person and remote classes, fall welcome events were held virtually: the Student Involvement Fair, for example, featured nearly 200 departments and organizations tailored to a wide range of interests and backgrounds. More than 550 students attended the event online between Aug. 19-28.
The Rocket Marching Band kicks off "Saturday Sounds of the Stadium," a series of performances also available via livestream, Sept. 12 at noon. Details here.
Meanwhile, UToledo's tradition of world-changing partnerships and research is going strong. The 17th annual International Human Trafficking and Social Justice Conference is set to take place virtually Sept. 23-25. UToledo's Human Trafficking and Social Justice Institute and the Lucas County Human Trafficking Coalition host the conference, which has welcomed attendees from 45 states and 36 countries since 2004.
Photo courtesy of Mike Green
Thanks to the University's more than 30-year history advancing solar technology to power the world using clean energy, a new 2.3-acre, 337-kilowatt solar array on Health Science Campus is expected to save nearly $30,000 in energy costs each year. First Solar, one of the world's largest manufacturers of solar cells and a company with deep ties to UToledo, donated 365 kilowatts of its Series 5 modules valued at $192,000 to the University in 2017. A ribbon-cutting ceremony for the HSC Tech Park Solar Field was held Aug. 25.
Now more than ever, Rocket students and programs like these are in need of your support. Learn how to give back in your own way today.