---
*Annual Alumni Association Member
**Lifetime Alumni Association Member
1960s
Samuel Miles III (Bus '66) is the head men's tennis coach at Newmann University, located in Aston, Pa.
1970s
Darlene Duseberg (Ed '70, MEd '93) is the South Carolina state president-elect of Alpha Delta Kappa, a women's educational honorary sorority.
1980s
**Dr. John Estell (Eng '84) has been elected to a three-year term on the board of directors of the American Society for Engineering Education (ASEE). He will serve as chair of the Professional Interest Council III. The ASEE is a nonprofit organization of individuals and institutions committed to furthering education in engineering and engineering technology. The society has more than 12,000 members, including deans, department heads, faculty members, students, government and industry representatives from all disciplines of engineering and engineering technologies. Estell is a professor of computer engineering and computer science at Ohio Northern University in Ada, Ohio.

Kevin Poitinger (A/S '89) was named CEO of Holly Hill Hospital, one of the Triangle Spring's largest behavioral health systems in Raleigh, N.C.
**Steven Root (Eng '85) was promoted to region support manager in the engineering department of American Electric Power Ohio. Root is responsible for coordinating the transmission and distribution work plans for the electric utility.
1990s
Christopher J. Hewitt (Bus '90, Honors '90) was ranked by Chambers USA 2020 guide in his practice area based on legal knowledge and experience, ability, effectiveness and client service. Hewitt is a lawyer with Tucker Ellis LLP and practices mergers and acquisitions law in their Cleveland office.
2000s
Ryan Laskey (Eng '00) was named senior vice president of commercial vehicle drive and motion systems at Dana Incorporated, headquartered in Maumee, Ohio. This position includes responsibility for the company's entire commercial vehicle business. Laskey most recently served as vice president of strategy, planning and engineering for Dana's commercial vehicle drive and position systems business.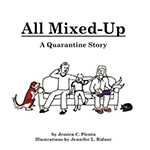 Jessica C. Pienta (Law '07) recently published "All Mixed-Up: A Quarantine Story." The book helps to reassure children and adults with a simple, straightforward take on how everyday life goes on even when it's "all mixed-up."

Seth Metzger (Eng '03) was named senior vice president of electrification at Dana Incorporated, headquartered in Maumee, Ohio. In this role, he works with Dana's four business units and engineering to develop electric and electro-mechanical solutions for customers. Metzger joined Dana in 2003 as a co-op student and most recently served as vice president of light vehicle engineering and global driveline electrification.

*Jennifer Tolles (HHS '19) and Brian Thrasher announced their engagement and October 2020 wedding in Grand Rapids, Ohio. Jennifer is a youth mental health therapist at The Zepf Center in Toledo, and Brian works at Charter Steel in Fostoria, Ohio.