Rising to the challenge: Early nursing graduates ready to take on pandemic
The challenge is obvious for six early graduates of The University of Toledo College of Nursing who now or soon will count themselves among the medical staff of hospitals in the state of Ohio. Each will face the COVID-19 pandemic, and all are prepared to take it on; after all, it's why they chose to graduate early.
The option for early graduation — approved by The University of Toledo Board of Trustees — was offered to College of Nursing and College of Medicine and Life Sciences students who had met degree and licensure requirements. Many say the choice to work now was as obvious as the challenge they would meet. The students who made this decision earned their diplomas on April 17.
The common thread that connects these six nurses to the millions of health care professionals worldwide is their desire to comfort and heal those in need of their skilled training and compassion. The six UToledo graduates, who share some insights with us into their dedication to the nursing profession, look toward their futures with optimism, knowing their time at UToledo prepared them well for what lies ahead.
"I am so proud of our Rocket nursing graduates," says Dr. Linda Lewandowski, dean of the College of Nursing. "Despite the challenges and risks in today's healthcare system and in the midst of a scary and uncertain pandemic, they are eager and excited to bring forth their knowledge, skills and caring and to 'get out there.' That's what nurses always do — we rise to the occasion and know that we can make a difference every day," adds Lewandowski. "Our graduates are stepping up and the future of healthcare is in good hands."
Each graduate was given the option to choose one of three questions posed to them. In their own words, they explain their early graduation decision and describe how they will confront the coronavirus pandemic that awaits them.
---
Question: As a new graduate of The University of Toledo, what has specifically made you decide to take this early graduation option and head into a dangerous situation?
"For me, I couldn't imagine having the capability and opportunity to help people and not take it. I want to know, 20 years in the future, that I did what I could to make the world a better place in such a dark time. You read about history and you just kind of think to yourself, what would I have done if I was alive during this? Well, this is our history, and I'm choosing to help. Spending nursing school with people who have similar mindsets has only made me more motivated to get out there and do something. The fear of getting the virus is something that is always there in the back of your mind, but when it comes down to it, I'm a healthy, young individual and I'm likely to survive. I'd rather it be me who got the virus than a person whose body can't fight it off. In the end, I'll only become a better nurse because of everything going on, and I will have the tools and resources within myself to give the best possible patient care."
Dara Artino (NRS '20) Bachelor of Science Nursing Program, Promedica Toledo Hospital, oncology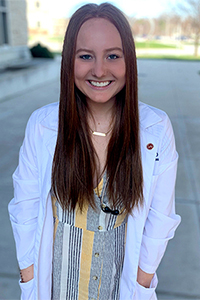 "When they offered the early graduation option it felt like a no brainer. I knew I could finish the work I needed to and knew it was the right thing for me to do, to head out into the hospitals. I felt that by sitting on the sidelines and not working, I was only wasting my knowledge and skills I had worked too hard on for these past few semesters. Although the situation is dangerous, I chose this profession to help when there is a need, and there is a really big need right now! I feel it is a privilege to be able to graduate early and get started helping others throughout this dangerous situation."
Hannah Kolinski (NRS '20) Bachelor of Science Nursing Program, Promedica, Bay Park Hospital
"I decided to graduate early so that I can work and help fight this current pandemic as quickly as possible. Given this unique opportunity to help others and perform a job that I love, I didn't hesitate to capitalize on these particular circumstances. I am looking forward to being able to help others and be a part of this experience."
Nathan Meyers (NRS '20) Bachelor of Science Nursing Program, Nurse Residency Program at MetroHealth, Cleveland, emergency department
---
Question: What have your UToledo education and experiences taught you to prepare you for such an immediate and difficult challenge ahead?
"My UToledo experience has been the best four years of my life. I originally came to Toledo with a different major, but after changing it a couple of times, I finally decided to pursue nursing. My nursing education throughout the program has been one of the most challenging, yet rewarding experiences of my college career. There were many late nights, tears and wondering if I chose the right career path, but the feeling that I made a difference in someone else's life made it all worth it. I am now confident in my skills and bedside manner, and I am excited to begin my career so soon. In addition to nursing school, I am also involved in many organizations around campus and have held leadership positions in my sorority and the Mortar Board National Senior Honor Society. I also have guided tours, helping prospective students and their families find their place at UToledo, just like I found mine. All of these outside experiences have given me the confidence and leadership skills that ultimately helped me make the decision to graduate early. I know it will be a difficult road ahead, but I am ready to help those who need it most. Without my UToledo education and experiences, I would not be the person I am today, and for that I am grateful."
Emily Galla (NRS '20) Bachelor of Science Nursing Program, Cleveland Clinic, cardiovascular intensive care unit
"During my time at UToledo, I have not only learned in the classroom setting but also in the hospital and work setting that has transformed my education and learning objectives. I did not think it was possible for me to go into nursing school, let alone graduate early to help assist on the frontlines of this pandemic. Throughout my five semesters in nursing school, I was able to be a part of the UToledo CommunityCare Clinics as director of nursing relations. I was able to work alongside some of the most amazing healthcare providers who volunteered their time to teach and contribute to patients of every socioeconomic background. I was able to gain a better perspective of various patients in Toledo, which will help me in the future. I also have been able to work as a nursing assistant at The University of Toledo Medical Center in the float pool where I have picked up skills that I know will allow me to be a better nurse. If it weren't for my experiences that I gained through nursing school, I wouldn't be able to be confident in my ability to become a nurse today."
Cindy Pu, LSW, (MNRS '20) Master of Science Clinical Nurse Leader Program, float pool RN at The University of Toledo Medical Center
---
Question: What are three things that you will lean on for support and encouragement as you begin to work in your new profession during this health care crisis?
"In a time of crisis like this, there are not a lot of support systems to fall back on. As an extrovert, I thrive on human interaction and being able to see people, not just on a screen, but in a social setting. Going right into the front lines in this pandemic is an issue for many reasons. Instead of being trained for almost six to eight months before going onto a floor and having direct patient interaction, we will be trained within the first couple of weeks or have a quicker orientation time. This will allow us to work with and on patients sooner, yet also give us less time to get used to and trained on what the job 'actually entails.' Leaning on friends, family and fellow nurses is a pivotal part of this crisis. If we do not properly talk about our day and bottle in fear or hopelessness, it will only harm us in the long run."
Alex DiCola (NRS '20) Bachelor of Science Nursing Program, seeking a position in Cleveland
The need for health care providers to help save lives during the COVID-19 pandemic continues, even as some hard-hit cities across the country begin to see a slowing rate of infections or a flattening of the curve. As of May 10, there were 24,081 coronavirus cases in the state of Ohio, and a total of 1,341 confirmed deaths.