---
1960s
Steve Miller (Law '69) joined Vetter Law and Barrister Title Group, located in Mansfield, Ohio. His practice areas include real estate law, business law and estate planning and probate, as well as closing commercial and residential transactions for Barrister Title Group, where he will serve as vice president and assistant general counsel.
1980s
*Michael T. Gramza II (Eng '88) was selected as the 2020 Engineer of the Year by the Toledo Society of Professional Engineers. He recently retired from the Ohio Department of Transportation after three decades of service. After his retirement, Gramza joined Bergmann, a national architectural, engineering and planning firm, as its Ohio infrastructure practice leader.
1990s
**Dr. Lisa Lattanza (MED '93) was inducted into Eastwood High School's Eagle Way Hall of Fame Class of 2020 by the Eastwood Alumni Association. Eastwood High School is located in Pemberville, Ohio. Lattanza is chair of the department of orthopedic surgery and rehab at Yale School of Medicine, a world-renowned leader in 3D surgical planning and technology for deformity correction. She also is co-founder of the Perry Institute.
Gina Schell (A/S '90) is the newly appointed finance director for the city of Rossford, Ohio. She was most recently the chief operations officer at the Lenawee County Mental Health Authority.
Dr. Thomas Shuster (A/S '91) joined the medical staff at McLaren Flint as a vascular surgeon.
2000s
Dr. Carlos Gooden (A/S '08, MEd '10) successfully presented his dissertation at the University of New Orleans. He serves as director of student enrollment at the University of Chicago's Booth School of Business.
Dr. Derrick Manns (Ph.D. '01) was promoted to associate vice chancellor of student engagement at Lone Star College in Houston, Texas.
2010s
*Bernadette A. Caris (Eng '16, Honors '16) was selected as the 2020 Young Engineer of the Year by the Toledo Society of Professional Engineers. She is a staff engineer at TTL Associates in the geotechnical engineering department.
Dr. Daryl Davis (Ph.D. '19) had his presentation proposal accepted by the National Conference on Race and Ethnicity in American Higher Education. The presentation is entitled "Faculty Diversity as a Compelling State and Institutional Interest from a Critical Race Perspective."
*Alexis M. Gipson-Goodnough (Law '17) was hired as an assistant prosecutor for Monroe County, Mich. Her responsibilities will include the review and authorization of misdemeanor and juvenile delinquency cases, dockets in probate and district courts, and appeals.
*Jennifer Gray-Catera (Ed '01, MEd '03) and her husband, Brian Catera, welcomed a baby girl, Luciana Marie, on Feb. 14. Luciana joins brother Luca and sister Sophia, a current UToledo student.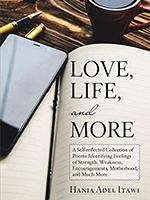 Dr. Hania Adel Itawi (Pharm '10, PharmD '12) published a book of poetry, "Love, Live, and More: A Self-Reflected Collection of Poems Identifying Feelings of Strength, Weakness, Encouragements, Motherhood, and Much More." Itawi is a pharmacist at Walgreen's and a mother of two.
Anthony Sallah (Law '14) was hired as an associate attorney with Barnes & Thornburg in the Grand Rapids, Mich. office. He focuses on commercial litigation and construction matters, representing owners, contractors, designers, sureties and engineering professionals in construction environments, including oil refineries, industrial facilities, urban towers and university projects.
Curtis Schlea (Ed '12) is the football coach at Woodmore High School in Elmore, Ohio. He teaches sixth-grade science and social studies at Gibsonburg Middle School.
*Lindsey Williams (HHS '18) and Mitchel Weber announced their engagement and will wed on July 25, at St. Paul's United Church of Christ in Bellevue, Ohio. Lindsey is an assistant manager at Jonathon Khoi Nail Salon in Maumee, Ohio, and Mitchell is a food and beverage manager for The Brim House Restaurant, Renaissance Hotel: Downtown Toledo.