Men's basketball captains help keep team's sights on '3/14'
Following two extremely successful seasons, Head Coach Tod Kowalczyk and his Rocket Basketball program are thirsting for more.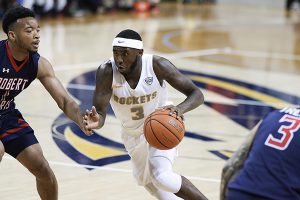 Toledo has won 48 games the past two seasons en route to capturing a pair of Mid-American Conference West Division titles and earning an at-large bid to the 2019 NIT Tournament. Even more impressive is the Rockets' run of success during the past six seasons when they have averaged more than 21 victories per season.
"I feel really good about where our program is at, and I feel even better about where our program is headed with the culture of winning we have established," said Kowalczyk, who has registered a 129-71 (.645) record over the past six years at the Rockets' helm. "I love the men we have in this program and how hard they work on and off the floor. It's certainly at a high level right now and something we're going to work hard to continue."
Leading the way for Toledo in quest for another successful season will be a veteran crew that includes seniors Willie Jackson (6-6, 215) and Luke Knapke (6-11, 245) along with juniors Marreon Jackson (6-0, 200) and Spencer Littleson (6-4, 200). The quartet will serve as the team's captains this season.
"Willie, Luke, Marreon and Spencer have provided us the best leadership I've had in my career," Kowalczyk said. "Our captains really coach the team, and I'm excited to follow their lead sometimes. Their leadership has been fun to watch develop and grow."
Knapke and Willie Jackson form an inside tandem that will be hard for opponents to match.
Knapke provides an inside-outside threat at the center position that the Rockets' offense will run through. He has averaged double-digits in points and six-plus rebounds each of the past two years. Kowalczyk expects that to increase this season.
"I don't think I've seen a player take a jump from his junior to senior year like Luke has," Kowalczyk said. "I think he is poised for a fantastic senior season and a possible candidate for MAC Player of the Year."
Jackson also will look to raise his game to another level after averaging 8.5 points and 8.9 rebounds per game last year.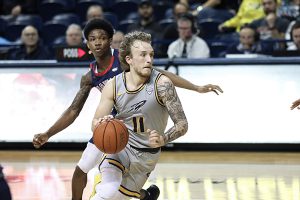 "Willie adds leadership for us with his toughness and teaching guys how to play with an edge," Kowalczyk said. "He has the potential to average a double-double after doing that for about 75 percent of last season. Willie does so many things for us, but the one thing I'd like to see him do is become more consistent with his scoring."
Marreon Jackson will lead the Rockets from the backcourt after starting from the outset of his collegiate career. He was an Honorable-Mention All-MAC selection a season ago after averaging 11.7 ppg, 4.2 apg, 3.9 rpg and 1.4 spg.
"Marreon had a great year last season, and in my opinion he's the best point guard in the MAC," Kowalczyk said. "His shooting percentages were a little low in the non-conference last year, but when league play started his numbers were great. He's been a big part of our success the past two seasons."
Littleson will be another key contributor in the Rockets' backcourt after emerging as a sparkplug off the bench during league play last season. In his first season in a midnight blue and gold uniform, the Rochester Hills, Mich. native emerged as a perimeter threat in league play when he posted a 46.7 three-point field-goal percentage.
"Spencer had some really good moments for us," Kowalczyk said. "I think it's fair to say he probably had a really slow start to the season after sitting out his transfer year. Once we got into conference play, he played much better. He clearly is a guy who is a very good player in our system and is one of our top defenders. Now I'd like to see him take the next step and eventually become a consistent scorer much like Jaelan Sanford was."
The final likely member of the Rockets' starting lineup will be junior Dylan Alderson (6-5, 205), a wing who provides size and length on the perimeter.
"Dylan had a very good offseason, and he's a guy who we're expecting big things from," Kowalczyk said. "He's performed really well in our practices, and now he just needs to carry that level of play into our games."
Kowalczyk will have a bevy of options to choose from on the Rockets' bench and redshirt freshman Keshaun Saunders (6-5, 190) is expected to make an immediate impact.