Coach Cullop and Rockets bring Mariella Santucci home
Back in 2017, Tricia Cullop brought up an intriguing idea to a newcomer to the Rockets' program.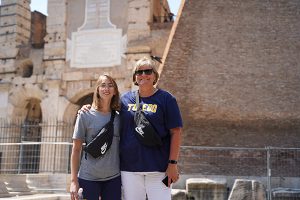 The Toledo women's basketball coach asked then-freshman Mariella Santucci how she felt about the possibility of the Rockets taking a trip to Santucci's home country of Italy. Coach Cullop explained that teams can take a foreign trip every four years, and she was very interested in bringing Santucci home.
The Bologna, Italy, native gave the idea a big thumbs up.
"When Coach Cullop first brought it up, I envisioned showing off my home country to my teammates and having them experience my culture and way of life," said Santucci, who currently ranks seventh in school history with 480 career assists.
True to her word, Cullop made the trip a reality. Following an extensive fundraising process, Santucci and the Rockets traveled and played exhibition games throughout Italy during August 2019.
"It was an awesome trip," Santucci said. "I think my teammates and coaches had an absolute blast. The trip was great for building team chemistry. It definitely brought us closer together."
Cullop echoed Santucci's thoughts.
"The trip was an incredible experience," Cullop said. "Many of us traveled throughout Italy for the first time and gained memories that will be etched in our minds for a lifetime."
Junior Mariah Copeland, a teammate of Santucci's during the past two-plus years, said, "the trip was simply phenomenal. We spent a lot of quality time together, and I think we're definitely closer as a result," Copeland said. "Most people don't get the opportunity to travel to a place like Italy. It was awesome."
After landing in Italy, Santucci and her teammates quickly navigated the waters of Venice and tasted their first pasta dish. That first evening they traveled to Bologna where Santucci's family greeted them upon their arrival.
"When we arrived in Bologna and I started recognizing the area, that brought about some real strong emotions," Santucci said. "And then when we pulled up to our hotel and my family was there, I just lost it. It was very emotional."
While in Bologna, the team attended a cooking class and learned how to make tortellini. "I'd never made tortellini before," Santucci said. "I did make some other pasta dishes with my mom growing up. It was a lot of fun making tortellini with my teammates."
Santucci's family also treated the team to a five-course dinner before they played the first of three exhibition games. "My family was so excited to see us play," said Santucci, who will graduate in Spring 2020 with a degree in international business. "It was like a big party. It was emotional for me to play in front of so many friends and family, especially my grandparents."
Cullop said seeing the Santucci family watch Mariella play in Bologna was satisfying. "It was such a moving experience to see Mariella's entire family at the game, many of whom hadn't seen her play in a very long time, if at all," Cullop said.
Next, Santucci and the Rockets explored Florence and then made their way to Naples by way of a high-speed train. From there, they traveled to Sorrento by bus. The cliffs highlighted the beautiful coastline along the Sorrentine Peninsula where the team enjoyed a few days by the water.
"The drive from Naples to Sorrento featured some of the most spectacular views I'd ever seen," Cullop said. "It was unbelievable."
The team also took a boat trip from Sorrento to the island of Capri. The Rockets stopped on the back side of the beautiful island and swam in the Tyrrhenian Sea. They also played their second game in the hills of Sorrento, capturing another Rocket victory.
"It was so fun spending time in Capri, swimming and relaxing," said Santucci, who had never visited the island before. "It was an experience unlike anything most of my teammates had ever done before. We absolutely loved it."
The team's final stop was Rome. The Rockets toured the Colosseum, Pantheon, Spanish Steps, Trevi Fountain and the Vatican Museum and attended mass at St. Peter's Basilica. They also had an opportunity to hear Pope Francis give his Sunday blessing to the crowd in Saint Peter's Square and visit the Sistine Chapel to see many famous works ofMichelangelo.
In addition, the Rockets played their third and final exhibition game in Italy's "Capital City" against the Rome All-Stars and ended with yet another dominating performance.
Santucci summed it up best about having the chance to bring her teammates to Italy and to thank Coach Cullop for giving her this memorable opportunity.
"This whole trip was very, very special to me," said Santucci, a two-time Academic All-MAC honoree. "It meant a lot to have my teammates, coaches and quite a few fans make the trip to my home country. I'm so appreciative to Coach Cullop for putting this trip in motion. I loved showing off my homeland, my culture and my way of life to everyone, and I think they loved it back."
Santucci hopes this trip jumpstarts the Rockets' 2019-20 season, her last go-round wearing the midnight blue and gold.
"I couldn't think of a better way to start this season — especially since this is my last one at Toledo — than with this trip," Santucci said. "With six newcomers on this year's team, the trip provided us a great opportunity to become closer, both on and off the court. Hopefully all of that extra time together and those extra practices and games can lead to great things for us."