$1 Million Gift Endows Professorship in Power Systems at UToledo College of Engineering
Like education, energy is a catalyst for the world's future – and two-time University of Toledo alumnus Gary Leidich '72, '74 and his family are helping to fulfill the potential of both.
The family is donating $1 million to fully endow the Leidich Family Professorship in Power Systems at UToledo's College of Engineering. It will be the second endowed professorship at the college and is designed to provide vital resources to continue growing its expertise and reputation in the critical area of power systems.
A new gift of $500,000 doubles a similar investment to the college in 2015, which created the Leidich Energy Engineering Fund.
"Energy, especially electricity and our power system, is fundamental but often taken for granted," said Leidich, who earned a bachelor's degree in electrical engineering from UToledo in 1972, followed by a master's degree in engineering science in 1974.
It's a family of Rockets. His wife, Marla, holds an associate's degree in law enforcement technology. She advanced to her bachelor's degree at Heidelberg University and a career in security and communications at the Davis-Besse Nuclear Power Station. Gary's son Brian and stepson Kurt Landis are UToledo alumni.
"The whole idea of this endowment is to allow the College of Engineering to maintain a focused leadership position in the field of power systems," Leidich said.
Dr. Raghav Khanna, an associate professor in the department of electrical engineering and computer science, has been selected as the inaugural recipient of the professorship. Khanna, who joined UToledo in 2015, specializes in next-generation energy conversion applications including renewable energy systems, electric maritime and aircraft systems and electric vehicles.
Over the past seven years, Khanna has received $3 million in competitive funding from the U.S. Department of Energy, U.S. Department of Defense and NASA to pursue efficient energy conversion-related research. The Leidich endowment will supplement Khanna's ongoing research efforts.
"The best educators care that their students 'get it,' and Raghav is definitely one of those," Leidich said. "He has a great ability to not only teach the technical aspects of engineering but also to connect that knowledge to real-world applicability. That is what's most valuable to the coming generation of students."
From Khanna's perspective, the new position creates opportunities to expand in three key areas: material resources, preparing students for the workforce of the future and UToledo's influence as a national hub for energy research.
"Energy is at the forefront of the nation's priorities, and this endowment empowers us to continue meeting those demands," Khanna said. "We'll be able to train students with more sophisticated equipment, state-of-the-art labs and simulations of the power grid and infrastructure – which in turn helps develop better proposals to attract research funding.
"We are proud and grateful to the Leidichs," Khanna added, "and I share this as a tremendous victory for everything our department, the college and University are doing to improve the lives of students."
Dr. Mike Toole, dean of the College of Engineering, sees the impact of the endowment as reaching far beyond a single degree program or academic department.
"Thanks to the inspiring generosity of Gary, Marla and their family, our college now has a very prestigious asset — a named professorship — to strengthen our visibility in the area of power systems. The professorship will benefit Professor Khanna, our undergraduate and graduate students and the college as a whole in multiple ways," Toole said.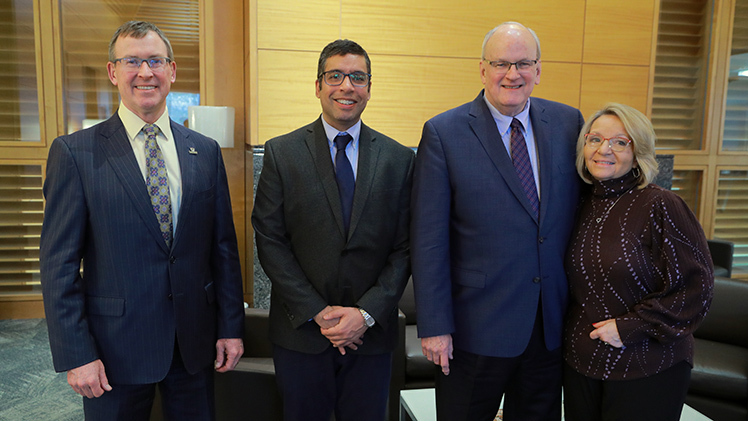 "Our college prides itself on being an incubator and launchpad for world-changing ideas that benefit our nation — that starts with attracting and retaining the best professors, students and staff."
An Early Spark
Growing up in Ashtabula, tucked in Ohio's northeast corner, Leidich showed an early interest in nature and science – an instinct nurtured by a long history of educators in his family. He chose to major in power systems and electrical engineering after receiving a scholarship to attend UToledo.
"When I was in college, utilities were a growth industry," said Leidich. "It was an exciting place to be, especially with the budding commercialization of nuclear power."
He began his career with The Illuminating Co. in Cleveland and had a number of successive leadership positions with the FirstEnergy companies, retiring in 2012 as executive vice president and president of The Generation Co.
Leidich is an active, longtime supporter of the University. He is chairman emeritus of The University of Toledo Foundation Board of Trustees, has served on the Engineering Advisory Board, established a scholarship program for high school students entering engineering and currently teaches a popular online course in power system management, bringing his 50 years of industry experience to the virtual classroom.
The Leidichs attend many campus events and have even driven their 1955 Chevrolet convertible in Homecoming parades.
Leidich remembers well the power systems courses where he first learned about energy conversion, preparing him for the technical aspects of his career. He has since seen the many changes in the industry, including the current focus on alternative energy sources.
The catalyst for Leidich's interest in supporting the energy field came in 2015 when Dr. Nagi Naganathan, former dean of the College of Engineering, approached him with an idea to create a unique energy engineering concentration as a graduate degree option. Leidich chaired a task force of faculty, alumni and industry representatives to shape the curriculum.
"Gary's unique blend of expertise and enthusiasm laid the foundation for what has become one of UToledo's most innovative degree programs," said Naganathan, now president of the Oregon Institute of Technology. "His partnership and vision helped position the college and its students as pioneers not only in the energy field but also in complementary areas like public policy and finance. This endowment reinforces that commitment.
"I am delighted to see Dean Toole, Dr. Khanna and other faculty members elevating the Leidichs' transformational vision to the next level of excellence in practice," Naganathan added.
When considering the greatest opportunities for the future of energy education, Leidich is focused on achieving UToledo's vision as a leader in power systems and on finding unique ways to combine the technical with the practical.
One example stands out: "What will be the electrical industry's version of the smartphone? Will there be that 'game-changer' for the power system? Just maybe, we can help a student play a role in a new electrical grid, perhaps fuel cells or other yet unknown technologies," Leidich said.
"That's why we've made this gift. To help make a difference with students so they can go on to make a difference in the lives of others."
Pictured at top: Gary and Marla Leidich; pictured second: Dr. Raghav Khanna; group photo: from left, Dr. Mike Toole, dean of the College of Engineering, Dr. Raghav Khanna, an associate professor in the Department of Electrical Engineering and Computer Science, and Gary and Marla Leidich.