Three-Time Alumna Finds Path in Neurology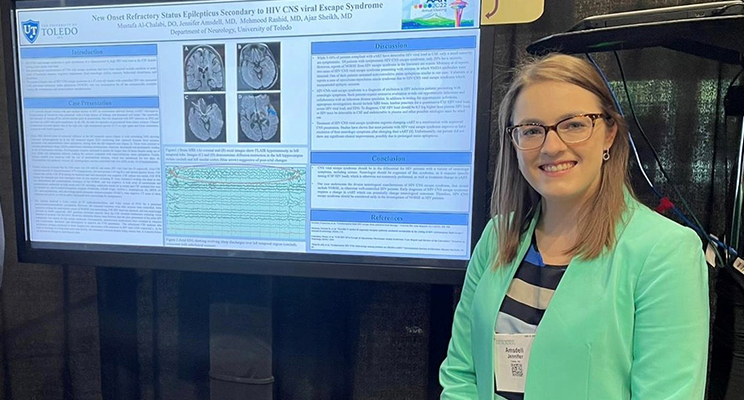 Jennifer Amsdell '13, '17, '21 is a University of Toledo Rocket through-and-through. She was born and raised in Toledo, where her first job was serving ice cream at Netty's. She went on to complete her undergraduate and medical degrees at UToledo as well as her neurology residency and movement disorder fellowship.
After she completes her fellowship, she plans to continue her career with the UToledo neurology department as a movement disorder specialist and assistant professor. This fulfills her passion for teaching students as well as patients. In addition to caring for patients with movement disorders, such as Parkinson's disease, Amsdell also helps patients with deep brain stimulation and performs injections of botulinum toxin for patients with different neurologic conditions.
Finding Her Passion
Amsdell knew she wanted to pursue a career in medicine by high school, but she envisioned herself as a pediatrician. Fast forward to medical school, where neurology still wasn't on her radar until her third-year neurology rotation. "I fell in love with the neurologic exam and was amazed that neurologists were able to diagnose patients so accurately without intense testing," Amsdell recalls. Throughout her education, she built strong relationships with many of the physicians who became her mentors. Those mentors served as inspiration for remaining at UToledo for her residency and fellowship, as well as becoming a faculty member herself.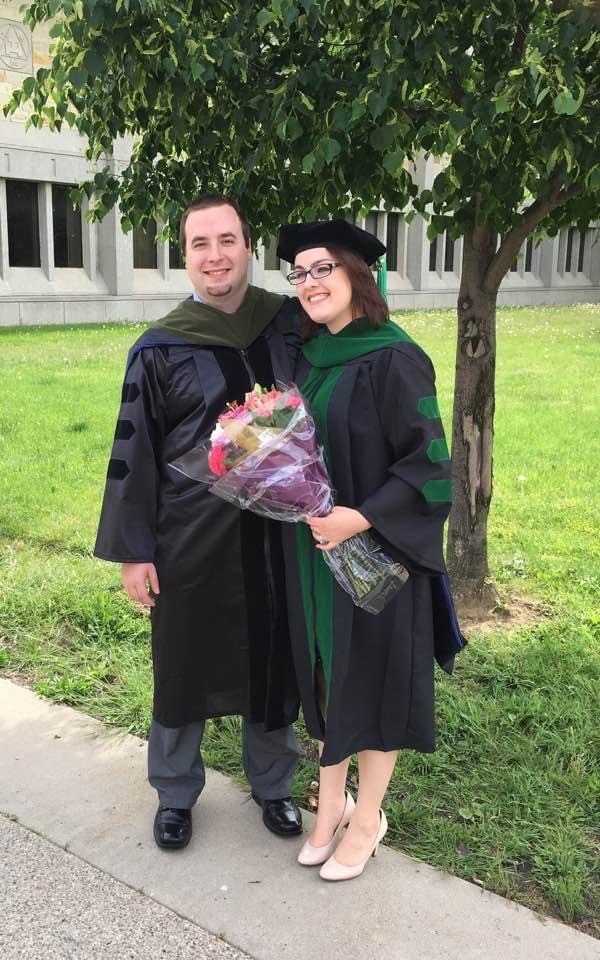 Her favorite part about working in UToledo's neurology program is the strong relationship between the faculty, staff and medical school. "The faculty are incredibly supportive and dedicated to their patients and students," notes Amsdell. "I also have a passion for teaching and love to work with medical students and residents, and UToledo provides me the ability to do both."
All Roads Lead Back to UToledo
When asked why she chose to attend The University of Toledo, she referred to her strong family ties in the area. Since she was sure she wanted to pursue medicine in high school, UToledo's early acceptance program differentiated the University from her other options.
Once enrolled, Amsdell's most important memory from her time as a rocket is meeting some of her closest friends. She also recalls enjoying an OAR concert hosted by UToledo as well as many football games.
She was also a member of Alpha Epsilon Delta (AED), a preprofessional fraternity for pre-medical students. "AED introduced me to many different specialties within medicine, helped me meet mentors, gave me leadership experience and was the reason I found my first job in the medical field," says Amsdell. "I was a scribe working with the ER doctors at Toledo hospital."
When she is not on the Health Science Campus or working at ProMedica Toledo Hospital, Amsdell spends time with her two dogs, a Havanese named Tipper and a double-doodle named Elton.
Pictured at top: Amsdell presenting a case report at the American Academy of Neurology annual meeting.