New Kidney Leads to New Career for '98 Grad
Atul Agnihotri '98 describes his time at The University of Toledo as the "All-American college experience."
"I walked into the campus in the fall of 1995, leaves were changing colors and the campus looked like a gorgeous picture postcard," he says. "I was sold!"
Growing up in India, Agnihotri received his undergraduate degree from the University of Pune, where he was also a track student-athlete, cartoon artist for local newspapers and avid outdoorsman. He worked in the engineering field for a few years before coming to pursue graduate studies at UToledo.
"For an incoming international student, The University of Toledo offered the best value for a solid engineering education and in my field of specialization," notes Agnihotri. "I was a research assistant and earned a scholarship, all of which helped support my way through school even further."  
A world-class education was not the only takeaway from his UToledo experience. Agnihotri happily recalls late-night coffees at Maxwell's Brew and endless Chinese food from Ipoh amid long hours solving engineering homework problems. He also spent his college years fanatically following the Rocket football and basketball teams. He rounded off his recollections with memories at the recreation center and weeklong hikes on the Appalachian Trail with UToledo Wilderness Club. 
He earned his graduate degree in civil engineering from UToledo in 1998, and shortly after started a fulfilling career at Owens Corning. This position provided Agnihotri with global leadership responsibilities in technology, project and portfolio management, mergers and acquisitions, business transformation, finance and sourcing.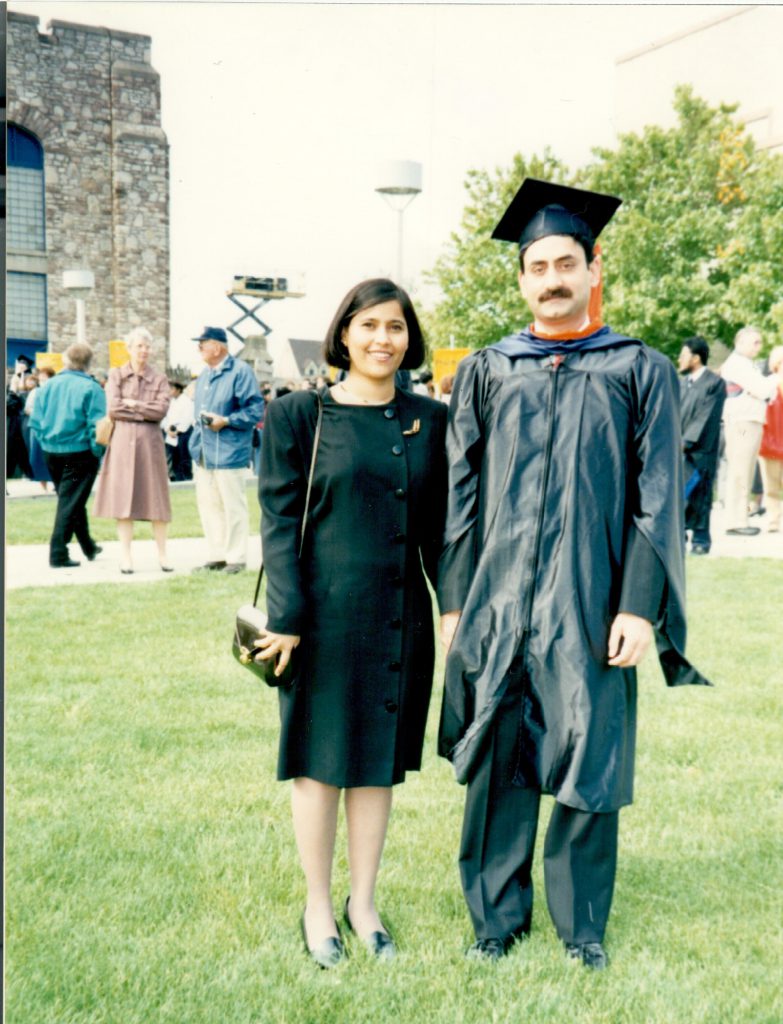 His life took an unexpected turn in 2015, when he was diagnosed with kidney failure. Agnihotri went from diagnosis to receiving a transplant within three months at The University of Toledo Medical Center. His personal encounter with renal failure drew him toward others facing similar challenges. He left Owens Corning a few years later to become CEO of Kidneys for Communities to develop innovative solutions for kidney donation shortages in the U.S. 
Since joining Kidneys for Communities, Agnihotri has worked with governments and hospitals in more than a dozen countries to increase living kidney donations, enhance laws, policies and best practices to enable more transplants and help patients with kidney failure.  
"I facilitated a historic agreement between the state of Israel and the United Arab Emirates that led to a series of kidney transplants between the two countries", notes Agnihotri. "While the Abraham Accords had opened the door for business, it was early and any idea of kidney exchange was unthinkable."
As a result of this "kidney diplomacy," which crossed religious and ideological lines, three lives were saved simultaneously, valuable relationships were formed and new transplantation regulations were developed.
"With 100,000 people awaiting a life-saving kidney in the U.S., I think the best part about my current role is engaging with affinity groups such as our UToledo alumni to create an innovative approach to living kidney donations," says Agnihotri. "The possibility of making a positive impact through the United States' first community-based, living-kidney donation program is both very exciting and indeed very humbling."
Pictured at top: Atul Agnihotri '98, left, during UAE-Israel kidney exchange