Rockets Accept Invite to Play in Bahamas Bowl Dec. 17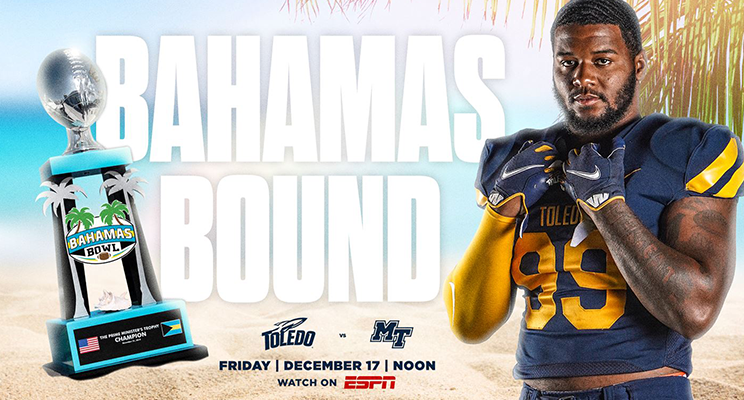 The University of Toledo has accepted an invitation to play Middle Tennessee State University of Conference USA in the 2021 Bahamas Bowl at the Thomas A. Robinson Stadium in Nassau. The contest will kick off at noon on Friday, Dec. 17, and will be televised on ESPN.
"We are extremely excited to accept an invitation to play in the Bahamas Bowl against Middle Tennessee," said UToledo Vice President and Athletic Director Mike O'Brien. "We had a wonderful bowl experience on our trip to the Bahamas three years ago and are looking forward to working with the people of the Bahamas again to make this a memorable and rewarding experience. I also want to congratulate head coach Jason Candle, his staff and our entire Rocket football team for earning this bowl invitation and finishing our 2021 season strong."
The Bahamas Bowl, which will open the 2021 Bowl Season, is the longest-running international bowl game in college football history. It debuted in 2014.
Toledo head coach Jason Candle said his program is looking forward to playing in the Bahamas Bowl again after making its first appearance in 2018. That year the Rockets faced Florida International University, ending in a heartbreaking loss, 32-25.
"We are excited to participate in the Bahamas Bowl," Candle said. "It is an outstanding bowl game and will be the first time many of our players have the opportunity to travel outside the United States. The hospitality shown to our football team last time we were there was incredible. The Bahamas Bowl is a great way for our players and staff to cap off our 2021 season."
The Rockets (7-5, 5-3 MAC) finished in third place in the West Division of the Mid-American Conference. Toledo is 11-7 all-time in bowl games and has a streak of 12 consecutive seasons without a losing record as well as 11 straight years of being bowl-eligible.
Middle Tennessee (6-6, 4-4 Conference USA) finished fourth in the East Division of C-USA. The Rockets and Blue Raiders will be meeting for the first time.