Your Alma Mater / Together Again to Kick Off Fall 2021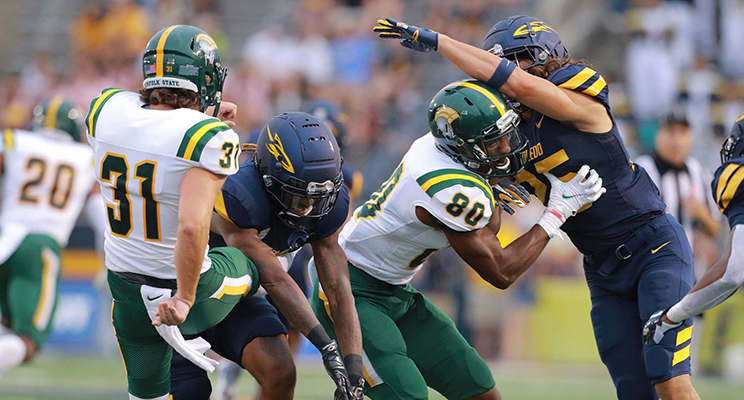 We are coming off an amazing weekend of sports in Toledo.
Last Saturday, our Rockets kicked off the football season with a dominant 49-10 victory over Norfolk State in the Glass Bowl. The Alumni Association hosted our first pregame party in the William and Carol Koester Alumni Pavilion since Nov. 13, 2019, with close to 1,300 fans enjoying all of the outdoor festivities we had planned.
Also this weekend, the 2021 Solheim Cup was hosted at Inverness Club, located directly across the street from our Center for Alumni and Donor Engagement. Many of our staff volunteered during the practice rounds as well as the tournament, which was televised around the world. It was such an amazing experience to take in the supercharged scene, as some of the best Ladies Professional Golf Association golfers from the U.S. and Europe played for the coveted Solheim Cup trophy.
The common theme among these events is the number of alumni I had the opportunity to speak with over the course of several days. Many were familiar faces that have attended Rocket games for years, while others I met for the very first time as we shared volunteer shifts during the Solheim Cup. Even on the last day of the golf tournament, when I was there purely as a fan, I spent more time talking to alumni and friends of our alma mater than watching golf.
Everyone I connected with was excited to be there, and even more excited to share their stories about their time at UToledo. While I hope to meet many more of you in the months and years to come, I want to thank everyone that took a few moments of their time recently to say hello and to share a smile and a story. Though this pandemic is far from over, it sure was nice to have an in-person conversation with fellow alums.
Stay safe and stay well!
William L. Pierce '99, '09
Associate Vice President of Alumni Engagement
Executive Director and Lifetime Member of The University of Toledo Alumni Association
Above: Freshman DeMeer Blankumsee blocks a punt in the first quarter that fellow freshman Maxen Hook returned for a touchdown.