On the Air, but Never Far From Home for Two-Time Alumna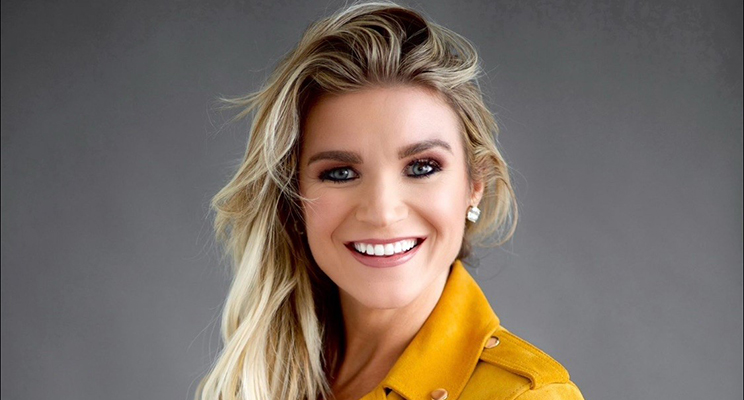 Allie Clifton '10, '12, studio host for Spectrum SportsNet covering the Los Angeles Lakers.
It only took Allie Clifton '10, '12 about 14 miles to realize what she had experienced in Centennial Mall that day in spring 2006.
Two years before, her older sister had visited several colleges on the basketball recruiting trail — and as a high school standout, Allie was now following in those footsteps with stops including Butler University and The University of Toledo. Clifton comes from a family of athletes: her father played football at The College of Wooster, her mother basketball at the University of Northwestern Ohio.
That work ethic and ability to make split-second decisions came in handy when considering where to spend the next four years of her life.
"I set foot in Centennial Mall and knew right away that I would be attending UToledo," says Clifton, who is now a studio host for Spectrum SportsNet covering the Los Angeles Lakers. "My family had encouraged me to visit, and it just felt like home."
After leaving her campus tour, the Van Wert native and her family pulled the car over in Perrysburg so Clifton could make the call and formally commit to becoming a Rocket.
During her time as a student — and student-athlete, playing basketball as a three-time co-captain under coaches Mark Ehlen and Tricia Cullop — Clifton found a closeness and camaraderie among classmates and others that set a foundation for the rest of her career. A roommate during her first year was a childhood friend from Lima, and she discovered other sources of support as well.
"My advisors, coaches and friends really put me in the best position to succeed," notes Clifton. "I don't think I understood then, the way I do now, what that did for me as a person and a leader. My mentors, and the sisterhood I experienced on the basketball court, taught me a lot about myself that I've carried over to broadcasting today."
Clifton was an education major at UToledo until fall semester of her senior year, when she was inspired by a calculus exam to follow her passions and explore a field that better matched her skills and interests. Ultimately, she earned a bachelor of arts focusing on sports and communications, followed by a master's degree in liberal studies.
"I knew I wanted to do something in sports," according to Clifton. "And I was fortunate that Toledo has so many great stations where I could use my experience as a former athlete in calling games and sideline reporting."
Allie Clifton interviews Kareem Abdul-Jabbar at the 2019 NBA Awards.
She began her professional career in broadcasting as a sports reporter for the Buckeye Cable Sports Network (BCSN) and WTVG-13 in Toledo before joining Fox Sports Ohio's Cleveland Cavaliers telecasts in 2012. She started with Spectrum SportsNet in 2018, a Southern California regional sports network that has exclusive partnerships with the Los Angeles Lakers, LA Galaxy of Major League Soccer and the Los Angeles Sparks of the Women's National Basketball Association (WNBA).
Clifton also hosts the "Road Trippin'" podcast with former NBA players Channing Frye and Richard Jefferson, where stories are told directly by athletes and other personalities in sports and entertainment.
Of all the coaches, athletes and others she has collaborated with during her years in broadcasting, one interview stands out.
"I was able to cover the red carpet for the NBA Awards in 2019, and spoke to Kareem Abdul-Jabbar," notes Clifton. "He's done so much for basketball. It reminded me of just how fortunate I am, every day of my life, to cover a sport that I love."
And while California may be several states away, she still considers UToledo a second home — a home that inspired a valuable insight.
"Be yourself and don't get discouraged," says Clifton. "One person's 'no' could be the next person's 'yes,' so just keep working hard. You can't fake it — if you're not true to yourself, people will figure it out."