UToledo President Inspires Hope in Inaugural State of the University Address
In his inaugural State of the University Address, The University of Toledo President Gregory Postel praised the campus community for the empathy, resiliency and innovation shown during the COVID-19 pandemic.
"We faced one challenge after another this past year, but we never lost sight of that which unifies us — the human factor. Perhaps more than at any other moment in our lifetime, we rallied as a community around those who lost friends and family members due to the pandemic," Postel said in the video speech released Monday, May 3.
During his introduction to the Annual Report component of the President's speech, Faculty Senate President Terry Bigioni also recognized faculty, staff and students for their commitment to the health and safety of one another. "I would like to say how proud we all are of our students, who seemed to immediately recognize what was at stake, what we all had to lose.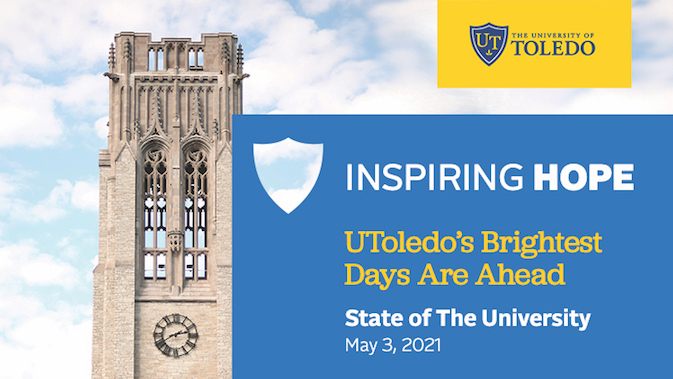 "While other schools were having outbreaks and closures, our campus positivity rates were consistently well below local community levels. By that measure, one might even say that it was safer to be on campus than off campus. Truly amazing. Faculty and staff may have reopened our University, but it was our amazing students who kept it open."
Alfred Baker, UToledo alumnus and chair of the UToledo Board of Trustees, thanked Postel for his leadership. "We are confident that President Postel is the right leader, at the right time for our University."
Postel's address highlighted the personal stories of perseverance of Jacob Connolly, UToledo's recent Goldwater Scholar; Leah Williams, transplant survivor and soon-to-be Rocket graduate; and Pierre Maldonado, 2010 UToledo graduate and University of Toledo Medical Center nurse.
He also recognized the UToledo Black Theatre Ensemble, faculty and students in the Departments of Theatre and Film and Communication for their innovation and collaboration knitting together the production's components shot independently according to social distance guidelines into the final "20K Leagues Under the Sea" performance that was nothing short of breathtaking.
Quoting Winston Churchill, Postel emphasized that addressing the challenges of 2020 has proven that the higher education and healthcare industries are far more agile than previously thought.
"We have faced financial uncertainty head on as we create a solid foundation to build future growth together. We've made huge strides toward financial stability of our hospital. And we've worked together with our faculty and staff to prioritize strategic investments in support of our key initiatives for the future of our institution," Postel said.
In his address, Postel affirmed that UToledo's brightest days are ahead.
"The end is in sight, and I'm confident that brighter days are ahead as we commit to an increased focus on student success, ensure UToledo offers relevant and in-demand academic programs, strive for exceptional customer service and engage with our community in new and innovative ways."
View the State of the University Address and Annual Report videos published on the President's Office website.