Crossing Paths Spark Opportunities for Rocket Alumni
Dr. Robert Shindell '95 (left) and Jared Weston '03, '05
With more than 166,000 graduates living around the world — and counting! — Rocket alumni are always running into each other in unlikely places.
But for Dr. Robert Shindell '95 and Jared Weston '03, '05, connecting in spring 2020 was about more than holding degrees from the same alma mater. Instead, it represented a rare, strategic opportunity sparked by their educational and professional paths to that point.
"Everything I am today can be drawn straight back to my experiences at The University Toledo," says Shindell, a Cleveland-area native who is now president and CEO of Intern Bridge, a company that partners with employers and educational institutions to build internship programs and other forms of experiential education.
"My professors were very accessible. They didn't talk at you, but with you. I've always remembered that, and try to pay it forward with my students today."
Weston, meanwhile, credits internship experiences with UToledo Athletics for helping shape his career. He is vice president for strategic development at GradLeaders, a Columbus-based firm founded in 1987 that provides recruitment technology and expertise to universities and career centers.
"Working with the Rocket athletic department really defined what I wanted to do after graduation," says Weston. "They gave a struggling student an internship and opened my eyes. Working with Dave Nottke and others felt more like friendships than typical supervisor roles."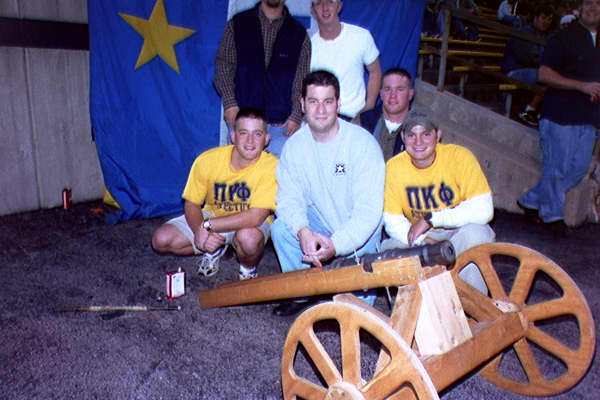 Robert Shindell (center) fires the cannon in the Glass Bowl as chapter advisor for Pi Kappa Phi in 1997
Today, roughly a year after the specialized skill sets of their two companies overlapped, Shindell and Weston see enormous potential in their collaboration. Weston is working on the latest software solution from GradLeaders, tailored specifically to college athletics programs; and Shindell's nationally recognized expertise is helping to fuel its innovation.
They hope their experience inspires others in the Rocket community.
"My advice to recent graduates is to stay close to people you knew at UToledo," says Shindell. "Keep networking, reach out to older alumni, leverage those connections. That ethic of rolling your sleeves up and getting to work is all part of being a Rocket."