Fourth-Year Medical Students Learn Residency Placements at Virtual Match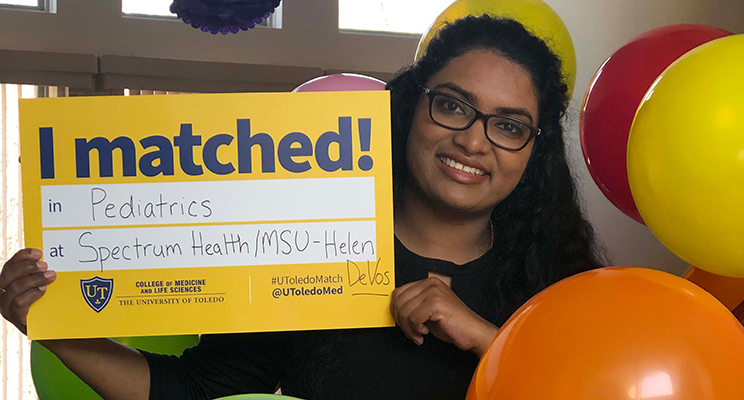 Christina Varghese was one of 157 UToledo students in the UToledo College of Medicine and Life Sciences who learned their residency placements during the March 19 virtual Match Day celebration.
As the clock approached noon on Friday, March 19, Christina Varghese '18 paused to pray with her parents and a few close family members.
A few seconds later, the email she was waiting on arrived — the fourth-year medical student at The University of Toledo would soon be returning to her home state to begin a residency program in pediatrics at Helen DeVos Children's Hospital in Grand Rapids, Mich.
"I'm super excited. Honestly, it all feels very surreal. I don't think I can really encompass all of the emotions that were in the room at the time," Varghese said. "My parents have been such a huge support system since the very beginning. Sharing that moment with them and finding out where my next three years will be spent was so remarkable and such a monumental moment."
Varghese, who did her undergraduate work at UToledo and participated in the BACC2MD program, was one of 157 UToledo students in the UToledo College of Medicine and Life Sciences who learned their residency placements during a virtual Match Day celebration on Friday.
For her, a career in pediatrics has been a longtime goal. As a teenager diagnosed with an autoimmune disorder, Varghese was especially grateful for the compassion showed by her pediatrician.
"He was really the first person to give reassurance to our family and give us the guidance we needed to go forward," Varghese said. "That truly inspired me and I honestly wish to pay that forward and provide the same comfort to others."
Match Day is one of the most anticipated moments for medical students across the country. Aspiring physicians discover at the same moment where they will spend the next three to seven years in residency as they train in their chosen specialties.
"The pandemic has been challenging for all of us, but it's also demonstrated the importance of our chosen profession. I'm so proud of the resilience and dedication our students have shown throughout their academic career and especially over the past year," said Dr. Christopher Cooper, dean of the College of Medicine and Life Sciences.
Traditionally, students receive an envelope with their placement at an in-person celebration. Because of ongoing public health recommendations against large gatherings, students learned their placement this year via email.
Even so, the students and their families found ways to make it special.
When Clay Rice's email arrived, his father printed off the notice and tucked it in an envelope.
Inside was word that he'd matched at Cahaba Family Medicine — his top choice — a program associated with the University of Alabama.
"It's kind of like opening up a Christmas present, you don't know exactly quite what's inside," Rice said. "You might have some hopes, but you open it and you're so excited and happy. It's a whole wave of emotions."
He elected to pursue full-scope family medicine, which would see him not only serving as a general practitioner but also providing more specialized care such as delivering babies.
"I want to know my patients' kids who will also become my patients," he said. "You end up having generations of patients and you really know them well."
In addition to the 157 students who learned their match Friday, seven individuals had already matched with the U.S. Armed Forces and another two previously matched in ophthalmology, bringing the total match to 166 students.
Of those 166 students, 20 matched with UToledo College of Medicine and Life Sciences Residency Program. A total of 30 fourth-year students matched in residency programs in northwest Ohio and 76 within the state of Ohio.
"Today marks the next step in their training," Cooper said. "Soon these aspiring physicians will be going out into the world to use their passion for medicine and the specialties they've chosen to improve the health of the communities in which they will serve. This is an outstanding class and we're so proud of them."
Among the other institutions where UToledo students will do their residency work are Ohio State, Case Western Reserve, NYU, Rutgers, Vanderbilt and the Mayo Clinic.