A Lifetime of Building Bridges for Engineering Graduate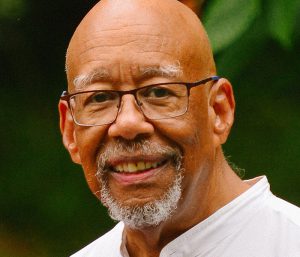 Birdel Jackson '68 attended high school in New York state. One day, during his senior year, several college representatives were visiting with students who belonged to the National Honor Society.
The only problem: Jackson wasn't among them. His grades were just a fraction of a point below qualifying for Honor Society membership.
"Your grades needed to average 85 or higher to talk to them," Jackson recalls. "And I showed up with an 84.5 anyway. Fortunately, someone from The University of Toledo said, 'Let me see his folder,' and my counselor handed it over. The rest is history."
Since that chance visit, he has graduated with a bachelor's degree in civil engineering from UToledo, enjoyed a fruitful career and served on the University's Board of Trustees and Alumni Board. But his path to becoming a Rocket was anything but a straight line.
Born in Memphis, Tennessee, Jackson displayed the typical early talents of an engineer: building model airplanes, fixing bikes, working with cars, taking things apart and reassembling them. He also enjoyed drawing — so when the time came to look at colleges, architecture and engineering caught his eye.
"I was excited about architectural engineering, and had been accepted to Ohio State and Cornell in addition to UToledo," says Jackson. "I decided on civil engineering after talking to my father, who had studied agricultural economics in college and also worked on our family's farm. My grandfather suggested I pursue my interest in engineering, since farming would be a challenge — due to the size of our farm."
It was a choice that would be rewarded with an unforgettable college experience. Jackson's first visit to campus was as an incoming freshman, when he arrived to check in to Dowd Hall (at the site of what's now the Honors Academic Village) dressed in a shirt and tie.
"I may have overdressed," notes Jackson. "Everyone else was in shorts and flip-flops. But I was there on time, and got to pick out the best bunk in Room 209!"
Birdel Jackson '68 as a sophomore in front of Carter Hall
From that first moment on campus, Jackson went on to build relationships with classmates and professors that would last his entire career. UToledo's civil engineering program was small and tight-knit, and allowed him to learn from some of the field's early pioneers at the University: Edwin Saxer led the creation of its civil engineering curriculum in 1946 and Dr. David Colony would chair the department from 1972-1979.
Otto Zmeskal, dean of the College of Engineering, and Ted Parr, the first black civil engineer to graduate from UToledo, were also mentors.
"I still have regular Zoom calls with some of my UToledo classmates," says Jackson. "And I maintained great connections with my professors."
He was also a founding member of the University of Toledo Engineers Council in 1964, which is still in operation today.
When asked about the inspiration for his volunteer and philanthropic efforts, Jackson points to two major factors: his upbringing and lifelong membership in Omega Psi Phi Fraternity, Inc.
"I was always around people helping other people," notes Jackson. "I grew up in a house built by my entrepreneur great-grandfather, for his kids and their families. And we knew many of the black merchants and entrepreneurs in our area."
"You have to be an involved citizen, and the cardinal principles of Omega Psi Phi helped guide me in that direction."
In addition to his board service with The University of Toledo, Jackson is also president of The Jackson-Davis Foundation, named in honor of his grandparents. Since 2002, The Foundation's Civil Engineering Incentive Scholarship has supported deserving undergraduate students in his chosen profession.
"There has always been service in my life and family. It's been pivotal for me to be able to help people."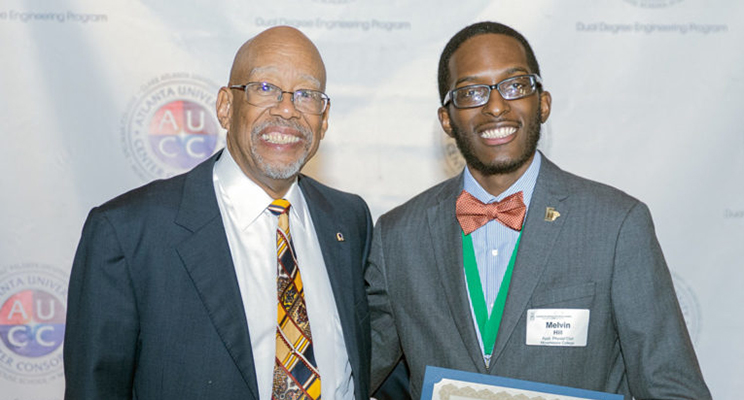 Jackson, left, with 2016 scholarship awardee Melvin Hill