Career Corner / Tips for Nailing a Virtual Interview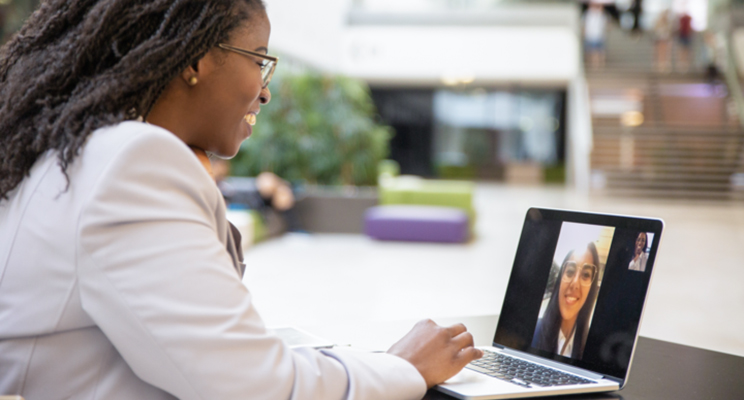 Interviewing can be particularly tough, especially if you have not done it in a while. Due to the recent pandemic, a virtual feature has been added that has made a somewhat familiar process more difficult. Interviewing is a broad topic, but below we will discuss a few areas that are most important when facing an upcoming virtual interview.
Know Your Technology
Virtual interviewing is not a new concept; however, the current public health crisis has made the virtual interview option the preferred method. Getting prepared for this type of interview is like an in-person interview, but you need to prepare a few additional things.
First, make sure you know how to use the many software platforms currently being used for virtual interviews. You may encounter any one of several platforms (Zoom, WebEx, Google Meet), but the functionality is very similar. Test your audio and camera and make sure that your internet access is up to the challenge. Practice using the platform that you will be using with a friend or family member to get comfortable. Also, take note of how to mute yourself as well as share your screen. These can be key and conducting your interview.
Prepare Your Space
Never has your home played a part in you getting a job, but things this year have been even stranger. Virtual interviewing has now given your protentional employer a window into your personal space. Here are a few ways that you can prepare. Set up your interview space in a location that is well lit with the light on your face. Placing your interview space in front of a window with your computer between you and the incoming light is ideal. However, you can create the same effect between you and a lamp. Be sure not to have the light source behind you or visible on camera.
Next, prepare the wall or space behind to be neat and free of distracting or offensive materials, and plan to have a quiet interview space void of noise and distractions. Using these tips will help you create a functional virtual interview space.
Be Your Best Self
The rest of the virtual interview relies on your skills, experience, assets, and how you present them to your interviewer. This process plays a major part in interviewing virtually or in person. Do your research on the company and position associated with your interview. The research will allow you to prepare questions to ask your interviewer and understand how your skills and experience fit the needs of the company. Have at least three to five questions to ask, holding salary-related questions to a second or third interview.
Next, be sure to dress for success. Just because the interview is virtual does not open the door for a t-shirt and sweatpants interview session. Dress as if you're interviewing in person. It will provide a sense of confidence and show your employer that you are ready and prepare for the interview and your future job.
Need help with your next interview? Contact us at careerservices@utoledo.edu or 419.530.4341.
The Career Services office is available to all alumni to assist you with your virtual or in-person interview needs. We conduct mock interviews, resumes review, and other interview prep assistance.  You can also follow us on social media at UTCareerService.
Davlon Miller
Assistant Director of Career Development
University of Toledo Career Services