Rocket Alumna, Doctoral Student Pens Winning Democracy Day Essay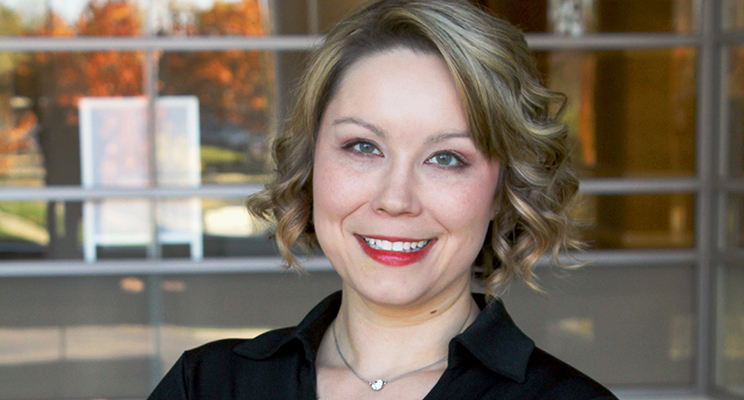 The roles of media, data and technology in American elections have changed rapidly in recent decades. So when Pierrette Dagg '14, '18 heard about an essay contest sponsored by the Toledo affiliate of Move to Amend for Democracy Day 2020, she jumped at the opportunity to weave her career expertise and research into a timely message for citizens and voters.
"I had been thinking about the effects of media literacy and campaign spending for a long time, as a possible dissertation topic," says Dagg, who is now pursuing a doctoral degree at The University of Toledo in the social foundations of education and educational technology. "So when the essay contest was shared in one of our classes, the focus was a pretty easy choice."
The presentation of her winning essay, originally intended for March, was rescheduled due to COVID-19 restrictions and she ultimately presented it to members of Toledo City Council on Oct. 21 at this year's Toledo Democracy Day.
Dagg also points to recent research suggesting that political polarization in the U.S. has risen with the growth of online news platforms — some more reliable and reputable than others. That and other research, combined with her professional experience, provided a foundation for the essay.
Read Pierrette's winning essay, entitled "Media Literacy and Democracy"
Since 2016, the Dayton-area native has served as director of communications, marketing and events at Merit Network, a nonprofit providing high-performance networking and cybersecurity services to education and research communities in Michigan and elsewhere.
"Data is more powerful than money now," says Dagg. "People are still influenced by other people in a sociological sense, but the way political information is now hyper-targeted online by geography and behavior using machine learning, we have to keep a close eye on it."
After her essay was presented, members of Toledo City Council agreed to discuss a potential resolution during an upcoming session, calling on Ohio legislators to increase public awareness of campaign spending and threats to the democratic process.
Once her doctoral work is completed, Dagg envisions herself continuing her work in the classroom as an instructor in higher education — a dream inspired in part by her experiences at UToledo.
"I wouldn't be here without Dr. Ed Janak," she says of the chair of the University's Department of Educational Studies. "I've heard him say that if you want to change society, then you have to change education."
"What sets UToledo apart is the heart of its educators. I can pick up a book anywhere, but the dedication, advice and support of my professors here have made all the difference."