For Two-time Alumnus, Community Service is its Own Reward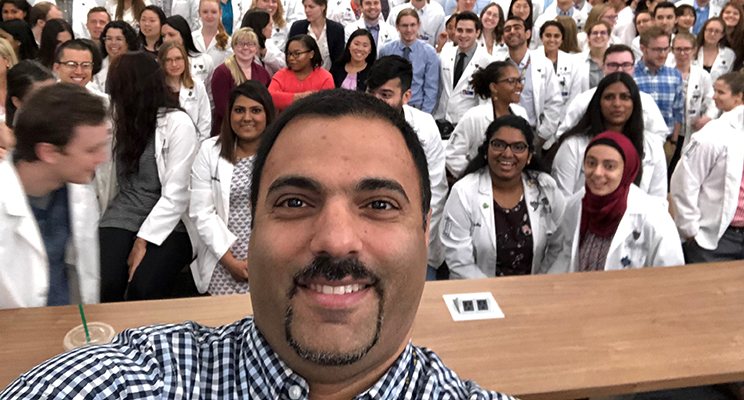 Dr. Mohamad Moussa '01, '04 (foreground) with students in the UToledo Emergency Medicine Residency Program.
Doctors are inspired by various moments and experiences to join the medical profession: perhaps someone in their family struggled with a serious illness, a high school teacher sparked their interest or they feel called to act by the current times or circumstances.
For Dr. Mohamad Moussa '01, '04, it was a community service project he participated in while attending St. Francis de Sales School in Toledo.
"I worked for an after-school phone service at Flower Hospital," says Moussa, who is now director of the Emergency Medicine Residency Program at The University of Toledo. "We provided support and advice for kids with working parents, spending time on their own. I owe a lot to my early training at St. Francis."
Combined with a love for science that was fed by chemistry and other classes, those conversations with students in need made him think he should become a doctor.
After earning a bachelor of science in biology and doctor of medicine from UToledo, Moussa went on to residency training at Henry Ford Hospital in Detroit. But it was a clerkship rotation at the former Medical College of Ohio (now University of Toledo Medical Center) that led him to specialize in emergency medicine.
"I loved the wide-open nature of working in an emergency room," notes Moussa. "We took care of anyone that came through those doors – insured or not, young or old. It didn't matter."
"That was the most rewarding way I found to help patients directly and diagnose their problems in real time."
His mentors while at UToledo included Dr. Michael Omori and Dr. Jay Ryno, whose methods and approach to treating patients stay with him as he practices today.
Dr. Moussa reflected on his role as a physician, husband, father and citizen in a column for the June 2020 issue of the Journal of Graduate Medical Education.
While he worked in the Detroit area and appreciates his time at Henry Ford, Moussa says there was never any doubt that he would return home to serve the Toledo community. His experience during the coronavirus pandemic has only reinforced that decision.
"I'm incredibly close to my family in the area, but it's also been a privilege to work on the front lines with my emergency room colleagues during COVID-19," according to Moussa. "Despite the challenges we're all facing, there's never been a moment of panic – only the give-and-take between our students and faculty to help our patients and support each other."
"There's no more important aspect of our wellness than to give back to others and our community," Moussa adds. "I'm proud to be making my imprint on emergency medicine here at UToledo."