Toledo looks for second MAC crown in past four years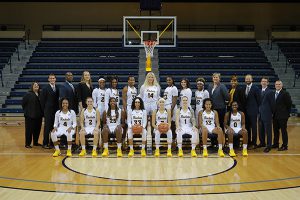 Toledo women's basketball has restocked its roster and will look to secure another Mid-American Conference championship in 2019-20.
"Post-season play is our expectation every year," said Head Coach Tricia Cullop, who last year became the winningest coach in program history. "I'm proud of the fact that we've held our own against some of the toughest leagues in the country. It was a highlight to advance to the 2017 NCAA Championship, and our goal is to get back."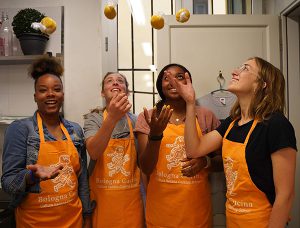 Toledo's roster in 2019-20 will consist of three seniors, five juniors, two sophomores and five freshmen.
"We have talented players returning and a great group of new players joining us," Cullop said. "I want us to be coachable and get a little better each day."
A season ago, Toledo posted a 21-12 overall record and an 11-7 ledger in the Mid-American Conference.
The Rockets, who finished second in the MAC West Division standings, also made their 12th overall appearance in the 2019 Postseason WNIT and seventh in 11 years under Coach Cullop.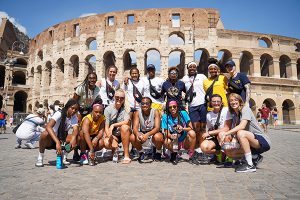 "We will be very versatile," said Cullop, whose team has advanced to the second round of the Postseason WNIT in each of their past seven appearances. "Every player will be capable of hitting a three-point shot, even our low-block posts. I'd like to see our three-point field-goal percentage and number of threes per game improve. We will also be young in some positions, but I do think that as the season progresses experience will be a great teacher."
Cullop hopes the team's versatility can help spread the floor and increase their pace of play.
"We will be able to open up the paint more with our shooting ability," said Cullop, whose Rockets' squad has won at least 20 games on six occasions. "That should enable us to drive more and kick for open shots. We can also increase our tempo with all of our versatility."
Leading the way for Toledo this season will be captains – senior Mariella Santucci (9.2 ppg, 3.8 rpg, 5.1 apg), junior Nakiah Black (10.7 ppg, 3.4 rpg, 2.2 apg) and junior Tanaya Beacham (3.9 ppg, 3.0 rpg).
"These three players have shown great leadership throughout their respective collegiate careers," Cullop said. "They are all vocal, they work hard and they are very talented. One of the great things about having three captains who are on the court for the majority of games is that they can be an extension of the coaching staff. I'm so thrilled for these three for a lot of different reasons, and I can't wait to see their continued leadership on and off the court."
The Rockets also return senior Sara Rokkanen (6.3 ppg, 2.8 rpg), junior Tyra Carlsten-Handberg (1.5 ppg, 1.2 rpg), junior Mariah Copeland (1.6 ppg), junior Tatyana Davis (2.9 ppg, 1.3 rpg) and sophomore Lexi Lance (0.7 ppg) to the fold this season.