Toledo's center Knapke stands tall and hits net from perimeter
Don't let looks deceive you. Luke Knapke is not your typical seven-footer.
Yes, he swats away opponents' shots with regularity, holding Toledo's record for career blocks (162). And true, he has been one of the Rockets' leading rebounders throughout his career, something you would expect from someone who stands 6-foot-11 and weighs 245 pounds.
But there is a secret guard living inside his big-man's frame. Knapke is as comfortable shooting bombs from behind the three-point arc as he is posting up under the basket.
That's the part of his game that first caught the Rocket coaching staff's attention when he was playing for Marion Local High School and on the AAU circuit.
"We could see that Luke was athletic and could step outside the three-point line when we recruited him," Head Coach Tod Kowalczyk said. "It's unusual for someone that tall to be as skilled as Luke is, and we are fortunate to have him as part of our program."
Knapke said he has been proficient from the perimeter since he was a kid, even before experiencing a growth spurt in high school.
"I've always been a good shooter," said Knapke, who has made nearly 40 percent of his three-point shots as a Rocket. "Then I started growing when I was in eighth grade. I went from 6-1 to 6-11 by my junior year."
Knapke's skyrocketing size certainly drew the attention of many college coaches, but he lacked the strength and experience needed to excel at the collegiate level. He arrived at Toledo weighing around 200 pounds, not nearly enough to survive the physical mayhem that takes place around the basket. So Knapke sat out his first season, hitting the weight room and fine-tuning all aspects of his game, especially defense. His new body is close to 50 pounds heavier, more than enough to throw his weight around in the Mid-American Conference.
"I knew it was going to be hard to get playing time my freshman year with Nathan Boothe and Zach Garber in front of me, so it didn't really surprise me when I redshirted," said Knapke, who graduated with a double major in marketing and management last spring and is currently work on his master's degree in recreation and leisure studies. "I spent a lot of time that year in the weight room and working on all parts of my game."
Knapke said that Boothe, a first-team All-MAC selection as a senior, taught him a lot, and he still uses some of the tips he provided. He even followed in his mentor's footsteps by registering the third triple-double in program history with 12 points, 12 rebounds and a school-record 10 blocks at Cleveland State in early December.
"Nate's work ethic was second to none, and it was great for me to just experience what college basketball was all about," Knapke said. "Going up against him in practice every day definitely made me a lot tougher both physically and mentally."
Kowalczyk said that Knapke took those lessons to heart. He always has worked hard to improve himself, but he took it up another notch this past summer.
"I think Luke improved more from his junior to senior year than any player I've coached," Kowalczyk said. "He came in early almost every day to work with Coach (Jeff) Massey on his power game and putting the ball on the floor."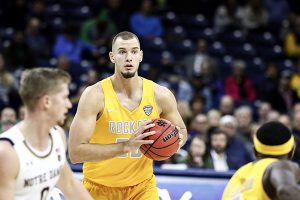 That type of work ethic flows through the entire team. Now the Rockets' elder statesman, Knapke is providing Toledo's underclassmen some of the same pointers he received.
"I've tried to help out our younger guys just like I was helped," Knapke said. "Luke (Maranka) and T.J. (Smith) have come to me when they have questions, and I try to teach them the best I can."
Knapke said his role as a leader has increased this season as one of the team's two seniors.
"The coaching staff has always wanted me to lead by example," Knapke said. "I have always pushed my work ethic to the limit, and I always try to work my hardest in practice and during the off-season. This year, I have tried to let others know what they are doing right, what they are doing wrong, and just not let them get by with anything."
That approach has the Rockets in position to win a Mid-American Conference championship. Toledo has been picked to the win the MAC West Division for a third straight season and is striving to get to the conference title game for the second time in the past three years.
"Our motto this year is 3/14," Knapke said. "That means March 14th because that's the date of the MAC Championship Game. We want to get there, and to do that we have to work hard every single day. Every game matters. We are going to do our best to win a championship."